Looking Back
On this day in 2005 (actually tomorrow, but I needed to publish early) I received an unusual parcel at work, which turned out to contain a pan, wooden spoon, tin of spaghetti hoops, loaf of bread… and an entire electric hob.
This turned out, as I describe in my blog post of the day, to have been the result of a conversation that the pair of us had had on IRC the previous day, in which he called me a "Philistine" for heating my lunchtime spaghetti hoops in the office microwave. This was a necessity rather than a convenience, given that we didn't have any other mechanism for heating food (other than a toaster, and that's a really messy way to heat up tinned food…).
It was a different time: a time when the lives of many of my friends were still centered around academic persuits (Siân was working on and handing in her dissertation, as was Liz, Claire was getting results back, Ruth was stressed out by a useless student on her team, Paul took things too far, and even JTA was suffering: struggling with his wordcount of an essay that he considered handing in late). It was a time when our evenings were being consumed watching Knightmare (my blog posts mentioning: the first series, first half of second series, second half of second series, Ruth's commentary) or at the Ship & Castle (both, sadly, without Sian). It was a time when Andy worked at the cafe under The Flat, like we were all in some kind of sitcom or something.
It was clearly a time when we were all blogging quite regularly: apologies for the wall of links (a handful of which, I'm afraid, might be restricted). Be glad that I spared you all the posts about the 2005 General Election, which at the time occupied a lot of the Abnib blogosphere. We were young, and idealistic, and many of us were students, and most of us hadn't yet been made so cynical by the politicians who have come since.
And, relevantly, it was a time when Paul was able to express his randomness in some particularly quirky ways. Like delivering me a food parcel at work. He's always been the king of random events, like organising ad-hoc hilltop trips that turned out to be for the purpose of actually releasing 99 red (helium) balloons. I tried to immortalise his capacity for thinking that's not just outside the box, but outside the known Universe, when I wrote his character into Troma Night Adventure, but I'm not sure I quite went far enough.
Looking Forward
It seems so long ago now: those Aberystwyth days, less than a year out of University myself. When I look back, I still find myself wondering how we managed to find so much time to waste on categorising all of the pages on the RockMonkey wiki. I suppose that nowadays we've traded the spontaneity to say "Hey: card games in the pub in 20 minutes: see you there!" on a blog and expect it to actually work, for a more-structured and planned existence. More-recently, we've spent about a fortnight so far discussing what day of the week we want out new monthly board games night to fall on.
There's still just enough of the crazy random happenstances in my life, though. As I discovered recently, when I once again received an unusual and unexpected parcel in the post. This time, it wasn't from Paul, but from Adam, who'd decided to respond in a very literal fashion to my tongue-in-cheek suggestion that he owed me tea, and a keyboard.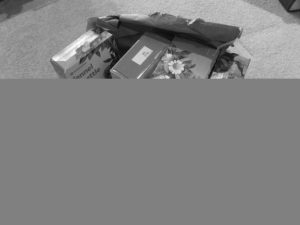 I got the chance to live with Paul for a couple of years, until he moved out last month. I'm not sure whether or not this will ultimately reduce the amount of quirkiness that I get in my diet, but I'm okay either way. Paul's not far away – barely on the other side of town – so I'm probably still within a fatal distance of the meteor we always assumed would eventually kill him.
We've turned what was his bedroom into an office. Another case of "a little bit less random, a little bit more structure and planning", perhaps, in a very metaphorical way? Maybe this is what it feels like to be a grown-up. Took me long enough.
This blog post is part of the On This Day series, in which Dan periodically looks back on years gone by.