Two years and one month ago to this day, I made an idiot out of myself by injuring myself while chasing cake. Back then, of course, I was working on the top floor of the Technium in Aberystwyth, and I was racing down the stairs of the fire escape in an attempt to get to left-over cake supplies before they were picked clean by the other scavengers in the office building. I tripped and fell, and sprained by ankle quite badly (I ended up on crutches for a few days).
Last week, history almost repeated itself, and I'm not even talking about my recent head injury. Again, I'm on the top floor of a building, and again, there's a meeting room on the bottom floor (technically in the basement, but that only means there's further to go). When I got the email, I rushed out of the door and down the stairwell, skipping over the stairs in threes and fours. Most of the Bodleian's stairwells are uncarpeted wood, and the worn-down soles of my shoes skidded across them.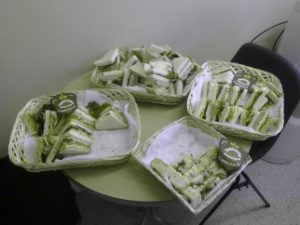 You'd think I'd have learned by now, but apparently I'm a little slow. Slow, except at running down stairs. As I rounded the corner of the last stairwell, my body turned to follow the route but my feet kept going in the same direction. They took flight, and for a moment I was suspended in the air, like a cartoon character before they realise their predicament and gravity takes hold. With a thud, I hit the ground.
Perhaps I'd learned something, though, because at least this time around I rolled. Back on my feet, I was still able to get to the meeting room and scoff the best of the fruit and sandwiches before anybody else arrived.
Is this really worthy of a blog post? Dan doesn't have an accident is hardly remarkable (although perhaps a little more noteworthy than I'd like to admit, based on recent experience). Well, I thought so. And I've got a free lunch. And I didn't have to hurt myself to do so. Which is probably for the best: based on the number of forms I had to fill out to get root access on the systems I administer, I don't want to think how complicated the accident book must be…