I'm sick of hobbling round on a crutch. Sure, it was an interesting novelty for the first couple of days, even despite the fact that I got almost no sympathy from folks (and, to be fair, I deserved none – what kind of idiot cripples himself while chasing after cake?). But now I'm just sick of it. Today, two weeks after my tumble, is the first day that I'm walking around outdoors without a crutch (and without being in pain). I still need a little bit of help from one when going up or down slopes (but not stairs), so I'm still carrying my happy little aluminium pole around with me, but I'm able to support my entire weight with either foot once more, so that's a big step forward.
Helped out with Aberystwyth Samaritans fundraising event at Varsity, although as I wasn't quite up to walking around on my bad foot I wasn't able to go around shaking buckets, but I did end up with "24:7" face-painted on my forehead, and apparently a decent sum of money was raised by the event, so not all bad.
I bought myself an EeePC 1000 this last week, too. I've never had a very good relationship with laptops, but I felt that it was probably time to give one another go, and in particular I wanted something small, light, cool, and quiet, with a fabulous battery life, so the Eee 1000 it had to be. I've been really very, very impressed with it so far (at least, having stripped off the silly OS that came on it and replaced it with Eeebuntu). I'll try to find time to write more about it in due course.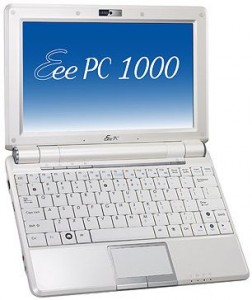 The only other little bit of excitement for me, apart from being nicknamed "Hobbles" by just about everybody down here, was seeing the new Star Trek film at the Commodore last night. And while I thought the story was compelling and well-written and that the film was pitched right for a new generation of Star Trek fans, I can't help but take issue at the artistic choices made by the director and by the special effects team. For example, whose clever idea was it that to show the vast, empty, hostility of space, the best way to shoot was entirely in close-ups? I'm pretty sure the only wide shot in the entire film is of the Academy! And what's with all the lens effects? Barely a scene goes by without some digitally-added bloom or glare or lens flare. They were cute to begin with, when we're panning across the bridge of the Enterprise in all it's "this is what the inside of your iMac looks like" glory, but by the seventh or eighth time, it's easy to get sick of. All in all, it's a mediocre to good Star Trek film, not worthy in my mind of all the hype it's attracting.