Recently, I learned that the roads in Great Britain are numbered in accordance with a scheme first imagined about ninety years ago, and, as it evolved, these road numbers were grouped into radial zones around London (except for Scotland, whose road numbering only joined the scheme later). I'd often noticed the "clusters" of similarly-numbered roads (living in Aberystwyth, you soon notice that all the A and B roads start with a 4, and I soon noticed that the very same A44 that starts in Aberystwyth seems to have followed me to my home here in Oxford).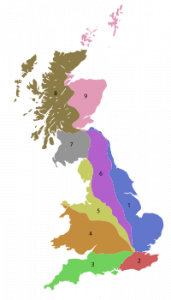 Who'd have thought that there was such a plan to it. If you're aware of any of the many roads which are in the "wrong" zone, you'd be forgiven for not seeing the pattern earlier, though. However, seeing all of this attempt at adding order to what was a chaotic system for the long period between the Romans leaving and the mid-20th century makes me wonder one thing: are there "roadspotters"?
There exist trainspotters, who pursue the more-than-a-little-bit-nerdy hobby of traveling around and looking at different locomotives, marking down their numbers in notepads and crossing them off in reference books. Does the same phenomena exist within road networks?
It turns out that it does; or some close approximation of it does, anyway. One gentleman, for example, writes about "recovering" road signs formerly of the A6144(M), which – until 2006 – was the UK's only single-carriageway motorway. A site calling itself The Motorway Archive has a thoroughly-researched article on the construction history of the M74/A74(M) from Glasgow to Carlisle. Another website – and one that I'm embarrassed to admit that I'd visited on a number of previous occasions – reviews every motorway service area in Britain. And, perhaps geekiest of all, the Society for All British and Irish Road Enthusiasts (SABRE) maintains a club, meetups, and a thoroughly-researched wiki of everything you never wanted to know about the roads of the British Isles.
From what started as a quick question about British road numbering, I find myself learning about a hobby that's perhaps even geekier than trainspotting. Thanks, Internet.