I talk a lot. If you don't want to listen to me ramble, and you're just looking for the free deed poll generator, click here.
After Claire and I changed our names back in 2007, I actually took the time to do a little research into deeds poll (or, more-specifically in this case, deeds of change of name). It turns out that we did it the wrong way. We paid a company to do all of the paperwork for us, and – while it wasn't terribly expensive – but it wasn't free, and "free" is exactly how much it ought to cost.
In the intervening years I've helped several friends to change their names via deeds poll (yes, "deeds poll" is the correct plural), and I've learned more and more about why the whole process should be simpler and cheaper than many people would have you believe.
A deed poll, by definition, is nothing more than a promise signed by one person (it's not even a contract – it's got little more weight than a New Year's resolution), on paper which has straight edges. That's what the word "poll" actually means: that the paper has straight edges. Why? Because back then, a contract would typically be cut into two on an irregular line, so that when the two halves came together it would be clear that they were originally part of the same document – an anti-forgery measure. A deed poll, because it's signed only by one person, doesn't need to be separated like this, and so it has straight edges.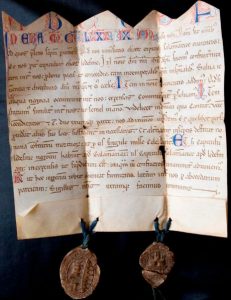 That means that's it's perfectly legitimate for you to write, on the back of a napkin, "I have given up my name [former name] and have adopted for all purposes the name [new name]. Signed as a deed on [date] as [former name] and [new name]. Witnessed by [witnesses signature(s)]."
The problem comes when you send that napkin off to the Inland Revenue, or the DVLA, or the Passport Office, and they send it back and laugh. You see, it helps a hell of a lot if your deed poll looks sort-of official. You ought to put some work into making it look nice, because that makes a world of difference when you ask people to believe it. That's not to say that they won't laugh at you anyway – the Passport Office certainly laughed at me – but at least they'll accept your name change if it has an air of authority and is covered with all of the most-relevant legalese.
Behind the dozens of scam artists who'll charge you £10, £20, £30, or even more to produce you an "official" deed poll (tip: there's no such thing), there are one or two "free" services, too. But even the best of these has problems: the site is riddled with advertisements, the document isn't produced instantly, you're limited in how many deed polls you can generate, and – perhaps worst of all – you have to give them your email address in order to get the password to open the documents they give you. What gives?
So I've made my own. It's completely free to use and it's available at freedeedpoll.org.uk: so what are you waiting for – go and change your name! Oh, and it's also open-source, so if you want to see how it works (or even make your own version), you can.
Why? Well: I don't like feeling like I've been scammed out of money, so if I can help just one person change their name for free who might otherwise have been conned into paying for something that they didn't need: well, then I've won. So change your name or help your friends and family to, on me, or just download my code and learn a little bit about Ruby, Sinatra, and Prawn (the technologies that power the site). What're you waiting for?