Have you come across GeoMidpoint? This web service will help you find the midpoint between any number of geographical points. They've got all kinds of proposed uses for it, like finding a convenient restaurant that's equidistant from each of you and your friends, but one of the more frivolous activities you can enjoy using it for is to find your home "centre of gravity". Put in everywhere you've lived (and, optionally, how long you lived there for, as a weighting factor), and it'll show you the centre point.
I gave it a go. Here's where I'm centred.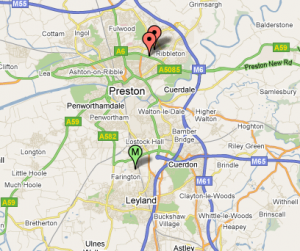 Okay, you think – it's not so surprising that the centre point is near Preston: I spent over a decade living there. But here's the quirk: my addresses weren't weighted by how long I'd lived there. All I did is put in everywhere I'd lived for six months or more, and let these places all have equal weight.
Curious, then, that the centre point comes to within a quarter hour's drive of either of my parents' houses, in Preston.
I suppose there are some balancing factors, here: places that cancel one another out quite nicely. The Northern bias of Scotland is counteracted by the comparative Southernness of Aberystwyth, Oxford, and Surrey. The strong Western bias of the many different places I lived in Aberystwyth are invalidated by quite how far East Aberdeen and London are. But still, it seems to be a quirky coincidence to me that the centre point would be so close to where I did most of my growing up, despite how much I've moved around.
This observation comes only a little while after the other Earthlings and I have finished signing the paperwork on what is later this year to become our new home, New Earth. It's still in the Oxford area, but provides us with some nice things that we're looking forward to, like more space (something we never seem to have enough of!). And any of you who've visited by car will probably appreciate how much more accessible the driveway is…
We'll be moving this Summer, and in doing so we'll pull my little green triangle over into Chorley. Better that, I think, than out in the Irish sea, which is where it'd be if I weighted where I'd lived by the amount of time I'd spent there!