Organiser: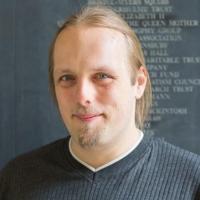 Come Say Goodbye to Dan
Come and say goodbye to Dan Q as he leaves the Bodleian to go to pastures new. Meet at The Kings Arms, followed by wherever the night takes us.
RSVP? Nah…
This page supports microformats. You can RSVP if you want to either (a) by h-entry p-rsvp webmention or (b) by commenting, below.
Or just turn up. If we move on to another pub this web page will be updated.
Progress…
17:14 I'm running late at a party in the Clarendon Building. At the pub soon!
Following Dan
Want to "follow" Dan online, once he's gone? The best place to do so is right here on DanQ.me: you can subscribe via a variety of media including RSS, Twitter, and Facebook or sign up for no-more-than-once-a-day emails when he does something interesting. You're also welcome to "follow"/"friend" him on e.g. LinkedIn, Github, or anywhere else you can find him.
Further reading
Some highlights of Dan's time at the Bodleian and a look at his imminent departure, for those in need of some reading material: