Earlier this week, I went along one lunchtime to a free exhibition hosted by my new employer, entitled Manifold Greatness, dedicated to the history of the translation of the bible into English.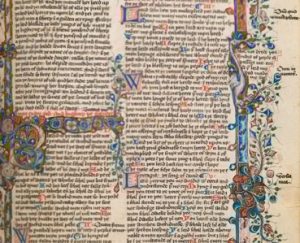 Of particular interest are the (never-before publicly exhibited) translation documents used by the actual translators who wrote the 1611 King James Bible, probably the most influential and significant English-language biblical translation projects ever undertaken. The exhibition includes the only known copy of a Bishops' Bible (the earlier authorized text of the Church of England) with handwritten notes by the translation committees who were at that time writing what was to become the King James Bible. It's quite fascinating to see the corrections they chose to make after consulting with earlier Greek texts.
They're also showing off an original copy of the Wicked Bible in remarkably good condition (most were destroyed): this book, probably owing to industrial sabotage at the printers' works at which it was produced, misses out the word "not" in the seventh commandment, "Thou shalt not commit adultery." If you're going to commit industrial sabotage, it's nice to do so with a sense of humour.
If you want to go and see the exhibition – and I'd recommend it; and I'm not just saying that because I work here – you've got until 4th September.