The other week I built Tiffany2, New Earth's new media centre computer. She's well-established and being used to watch movies, surf the web, and whatnot, now, so I thought I'd better fulfil my promise of telling you about my other new smaller-than-average computer, Dana, whose existence was made possible by gifts from my family over Christmas and my birthday.
Dana's size and power-consumption is so small that it makes Tiffany2 look like a bloated monster. That's because Dana is a DreamPlug, an open-architecture plug computer following in the footsteps of the coveted SheevaPlug and GuruPlug.
The entire computer including its detachable power supply is only a little larger than the mobile telephones of the mid-nineties, and the entire device can be plugged straight into the wall. With no hard disk (it uses SD cards) and no fans, the DreamPlug has no moving parts to wear out or make noise, and so it's completely silent. It's also incredibly low-power – mine idles at about 4 watts – that's about the same as a radio alarm clock, and about a hundredth of what my desktop PCs Toni and Nena run at under a typical load.
I've fitted up mine with a Mimo Mini-Monster 10″: a dinky little self-powered USB-driven touchscreen monitor about the size of an iPad. Right now the whole assembly – about the size of a large picture frame – sits neatly in the corner of my desk and (thanks to the magic of Synergy) forms part of my extended multi-monitor desktop, as well as acting as a computer in her own right.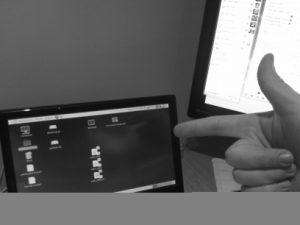 So on the surface, she's a little bit like a wired tablet computer, which would seem a little silly (and indeed: at a glance you'd mistake her for a digital photo frame)! But because she's a "real" computer underneath, with a 1.2GHz processor, 512MB RAM, USB, WiFi, and two Ethernet ports, there's all kinds of fun things that can be done with her.
For a start, she provides an ultra low-power extension to my existing office development environment. I've experimented with "pushing" a few tasks over to her, like watching log file output, downloading torrents, running a web server, reading RSS feeds, and so on, but my favourite of her tasks is acting as a gateway between the rest of the world and my office.
While they've come a long way, modern ADSL routers are still woefully inadequate at providing genuine customisability and control over my home network. But a computer like this – small, silent, and cheap – makes it possible to use your favourite open-source tools (iptables, squid, sshd, etc.) as a firewall to segregate off a part of the network. And that's exactly what I've done. My office – the pile of computers in the upper-right of the diagram, above – is regulated by Dana, whose low footprint means that I don't feel bad about leaving her turned always-on.
That means that, from anywhere in the world (and even from my phone), I can now:
Connect into Dana using SSH.
Send magic packets to Toni, Nena, or Tiffany2 (all of which are on wired connections), causing them to turn themselves on.
Remotely control those computers to, for example, get access to my files from anywhere, set them off downloading something I'll need later, or whatever else.
Turn them off when I'm done.
That's kinda sexy. There's nothing new about it – the technologies and standards involved are as old as the hills – but it's nice to be able to do it using something that's barely bigger than a postcard.
I have all kinds of ideas for future projects with Dana. It's a bit like having a souped-up (and only a little bigger) Arduino to play with, and it's brimming with potential. How about a webcam for my bird feeder? Or home-automation tools (y'know: so I can turn on my bedroom light without having to get out of bed)? Or a media and file server (if I attached a nice, large, external hard disk)? And then there's the more far-fetched ideas: it's easily low-power enough to run from a car battery – how about in-car entertainment? Or home-grown GPS guidance? What about a "delivered ready-to-use" intranet application, as I was discussing the other day with a colleague, that can be simply posted to a client, plugged in, and used? There's all kinds of fun potential ideas for a box like this, and I'm just beginning to dig into them.