This weekend, I integrated two new computers into the home network on New Earth. The first of these is Tiffany2.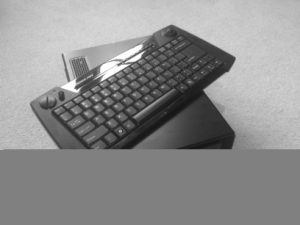 Tiffany2 replaces Tiffany, the media centre computer I built a little under four years ago. The original Tiffany was built on a shoestring budget of under £300, and provided the technical magic behind the last hundred or so Troma Nights, as well as countless other film and television nights, a means to watch (and record and pause) live TV, surf the web, and play a game once in a while.
The problem with Tiffany is that she was built dirt-cheap at a time when building a proper media centre PC was still quite expensive. So she wasn't very good. Honestly, I'm amazed that she lasted as long as she did. And she's still running: but she "feels" slow (and takes far too long to warm up) and she makes a noise like a jet engine… which isn't what you want when you're paying attention to the important dialogue of a quiet scene.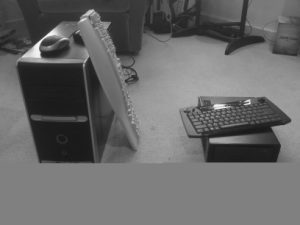 Tiffany2 is virtually silent and significantly more-powerful than her predecessor. She's also a lot smaller – not much bigger than a DVD player – and generally more feature-rich.
This was the first time I'd built an ITX form-factor computer (Tiffany2 is Mini-ITX): I wanted to make her small, and it seemed like the best standard for the job. Assembling some of her components felt a little like playing with a doll's house – she has a 2.5″ hard disk and a "slimline" optical drive: components that in the old days we used to call "laptop" parts, which see new life in small desktop computers.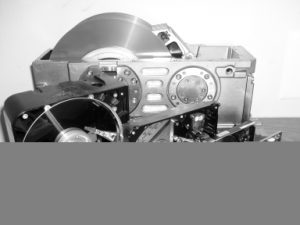 In order to screw in some of the smaller components, I had to dig out my set of watchmaker's screwdrivers. Everything packs very neatly into a very small space, and – building her – I found myself remembering my summer job long ago at DesignPlan Lighting, where I'd have to tuck dozens of little components, carefully wired-together, into the shell of what would eventually become a striplight in a tube train or a prison, or something.
She's already deployed in our living room, and we've christened her with the latest Zero Punctuation, a few DVDs, some episodes of Xena: Warrior Princess, and an episode of Total Wipeout featuring JTA's old history teacher as a contestant. Looks like she's made herself at home.
(for those who are sad enough to care, Tiffany2 is running an Intel Core i3-2100 processor, underclocked to 3GHz, on an mITX Gigabyte GA-H61N-USB3 motherboard with 4GB RAM, a 750GB hard disk, and DVD-rewriter, all wrapped up in an Antec ISK 300-150 case with a 150W power supply: easily enough for a media centre box plus some heavy lifting if I ever feel the need to give her any)