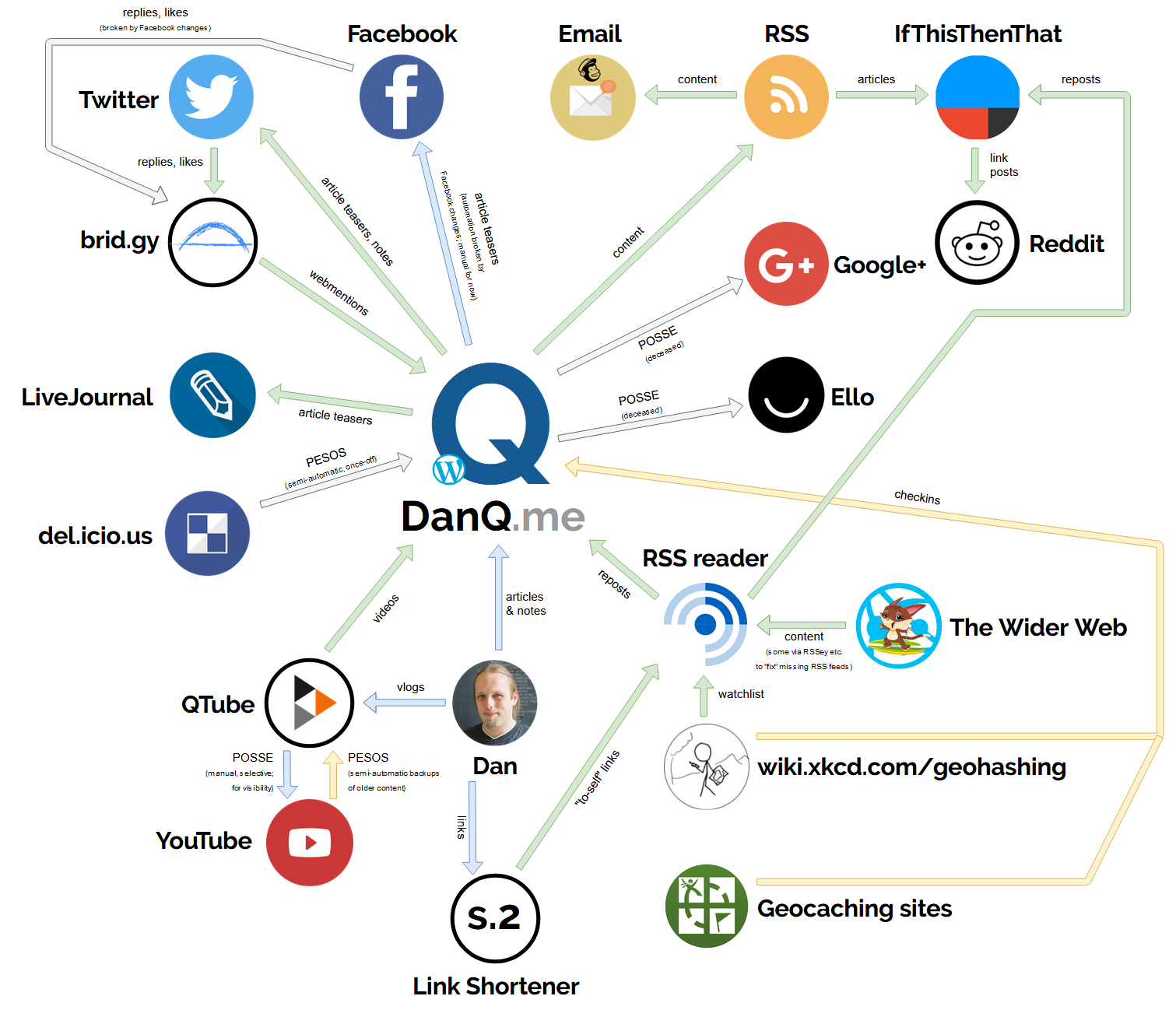 With IndieWebCamp Oxford 2019 scheduled to take place during the Summer of Hacks, I drew a diagram (click to embiggen) of the current ecosystem that powers and propogates the content on DanQ.me. It's mostly for my own benefit – to be able to get a big-picture view of the ways my website talks to the world and plan for what improvements I might be able to make in the future… but it also works as a vehicle to explain what my personal corner of the IndieWeb does and how it does it. Here's a summary:
DanQ.me
Since fifteen years ago today, DanQ.me has been powered by a self-hosted WordPress installation. I know that WordPress isn't "hip" on the IndieWeb this week and that if you're not on the JAMstack you're yesterday's news, but at 15 years and counting my love affair with WordPress has lasted longer than any romantic relationship I've ever had with another human being, so I'm sticking with it. What's cool in Web technologies comes and goes, but what's important is solid, dependable tools that do what you need them to, and between WordPress, half a dozen off-the-shelf plugins and about a dozen homemade ones I've got everything I need right here.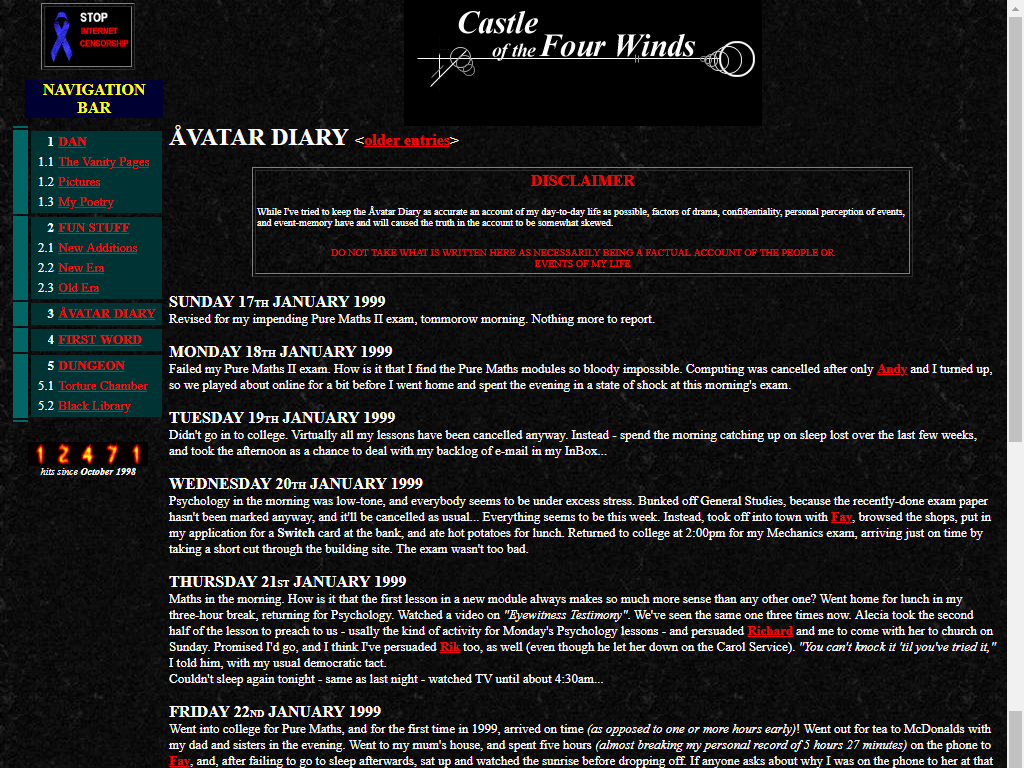 I write articles (long posts like this) and notes (short, "tweet-like" updates) directly into the site, and just occasionally other kinds of content. But for the most part, different kinds of content come from different parts of the ecosystem, as described below.
RSS reader
DanQ.me sits at the centre of the diagram, but it's worth remembering that the diagram is deliberately incomplete: it only contains information flows directly relevant to my blog (and it doesn't even contain all of those!). The last time I tried to draw a diagram like this that described my online life in general, then my RSS reader found its way to the centre. Which figures: my RSS reader is usually the first and often the last place I visit on the Internet, and I've worked hard to funnel everything through it.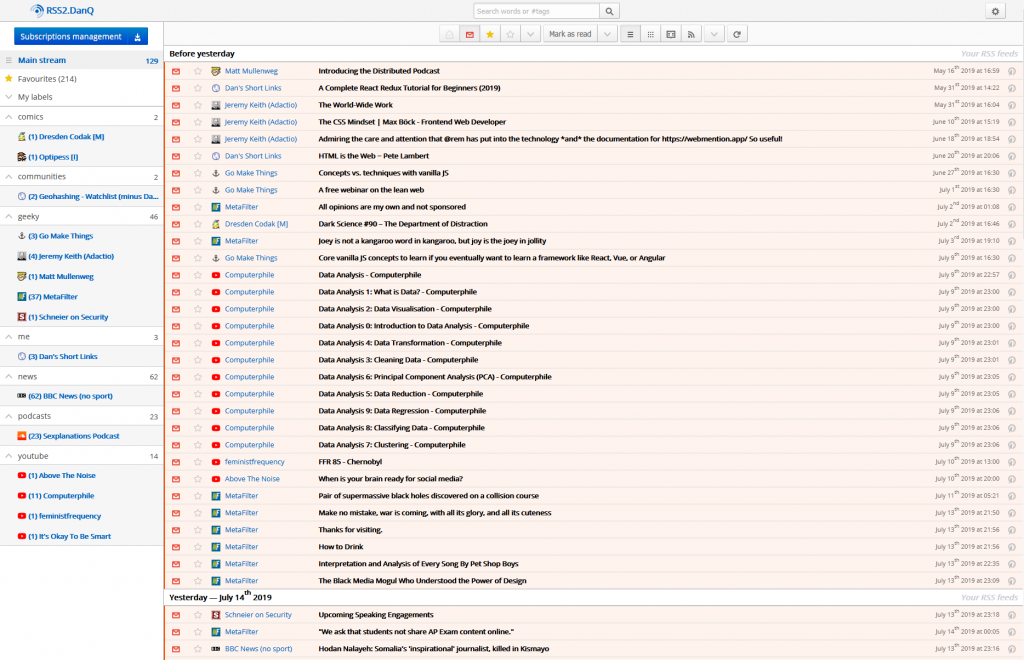 Right now I'm using FreshRSS – plus a handful of plugins, including some homemade ones – as my RSS reader: I switched from Tiny Tiny RSS about a year ago to take advantage of FreshRSS's excellent responsive themes, among other features. Because some websites don't have RSS feeds, even where they ought to, I use my own tool RSSey to retroactively "fix" people's websites for them, dynamically adding feeds for my consumption. It's also a nice reminder that open source and remixability were cornerstones of the original Web. My RSS reader collates information from a variety of sources and additionally gives me a one-click mechanism to push content I enjoy to my blog as a repost.
QTube
QTube is my video hosting platform; it's a PeerTube node. If you haven't seen it, that's fine: most content on it is consumed indirectly either through my YouTube channel or directly on my blog as posts of the "video" kind. Also, I don't actually vlog very often. When I do publish videos onto QTube, their republication onto YouTube or DanQ.me is optional: sometimes I plan to use a video inside an article post, for example, and so don't need to republish it by itself.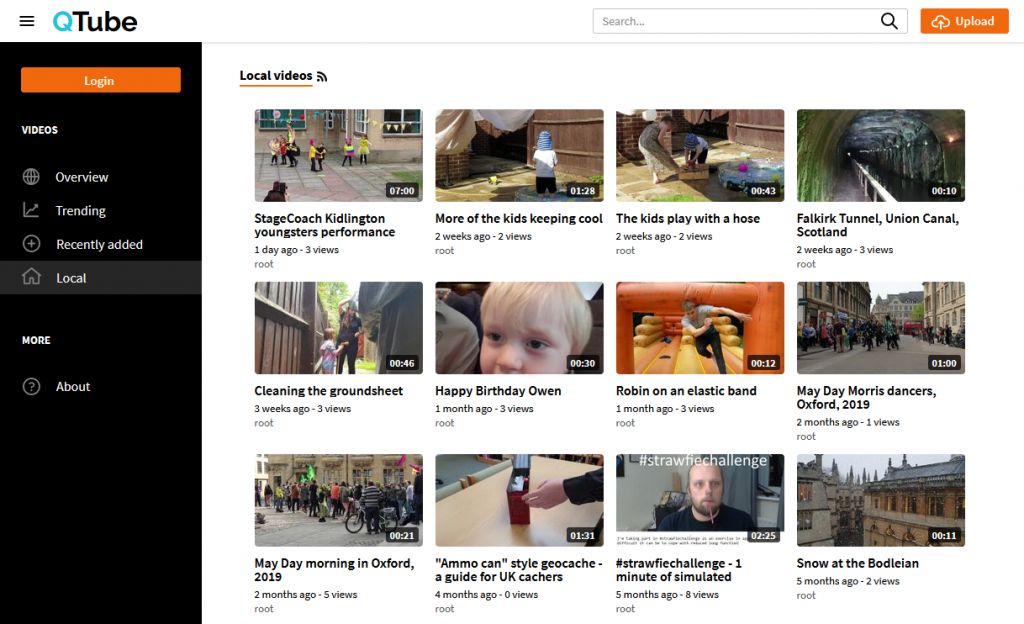 I'm gradually exporting or re-uploading my backlog of YouTube videos from my current and previous channels to QTube in an effort to recentralise and regain control over their hosting, but I'm in no real hurry. PeerTube certainly makes it easy, though!
Link Shortener
I operate a private link shortener which I mostly use for the expected purpose: to make links shorter and so easier to read out and memorise or else to make them take up less space in a chat window. But soon after I set it up, many years ago, I realised that it could also act as a mechanism to push content to my RSS reader to "read later". And by the time I'm using it for that, I figured, I might as well also be using it to repost content to my blog from sources that aren't things my RSS reader subscribes to. This leads to a process that's perhaps unnecessarily complex: if I want to share a link with you as a repost, I'll push it into my link shortener and mark it as going "to me", then I'll tell my RSS reader to push it to my blog and there it'll be published to the world! But it works and it's fast enough: I'm not in the habit of reposting things that are time-critical anyway.
Checkins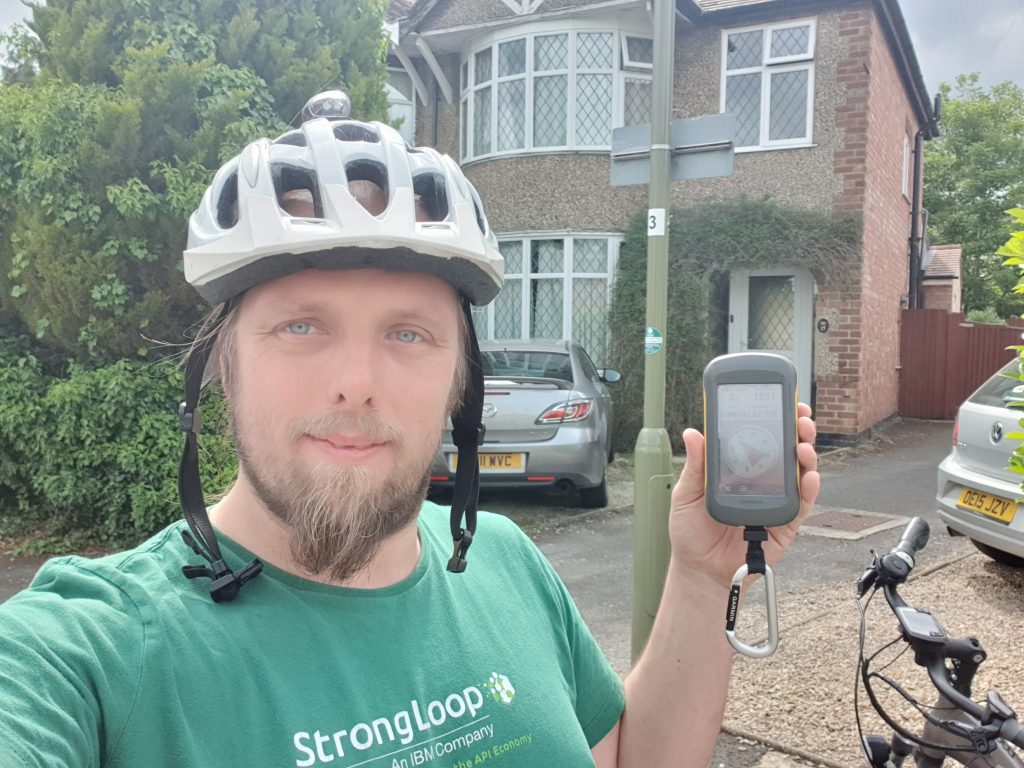 I've been involved in brainstorming ways in which the act of finding (or failing to find, etc.) a geocache or reaching (or failing to reach) a geohashpoint could best be represented as a "checkin", and last year I open-sourced my plugin for pulling logs (with as much automation as is permitted by the terms of service of some of the silos involved) from geocaching websites and posting them to WordPress blogs: effectively PESOS-for-geocaching. I'd prefer to be publishing on my own blog in the first instance, but syndicating my adventures from various silos into my blog is "good enough".
Syndication
New notes get pushed out to my Twitter account, for the benefit of my Twitter-using friends. Articles get advertised on Facebook, Twitter and LiveJournal (yes, really) in teaser form, for the benefit of friends who prefer to get notifications via those platforms. Facebook have been fucking around with their APIs and terms of service lately and this is now less-automatic than it used to be, which is a bit of an annoyance. My RSS feeds carry copies of content out to people who prefer to subscribe via that medium, and I've also been using this to power an experimental MailChimp "daily digest" mailing list of "what Dan's been up to" to a small number of friends, right in their email inboxes: I've not made it available to everybody yet, but if you're happy to help test it then give me a shout and I'll hook you up.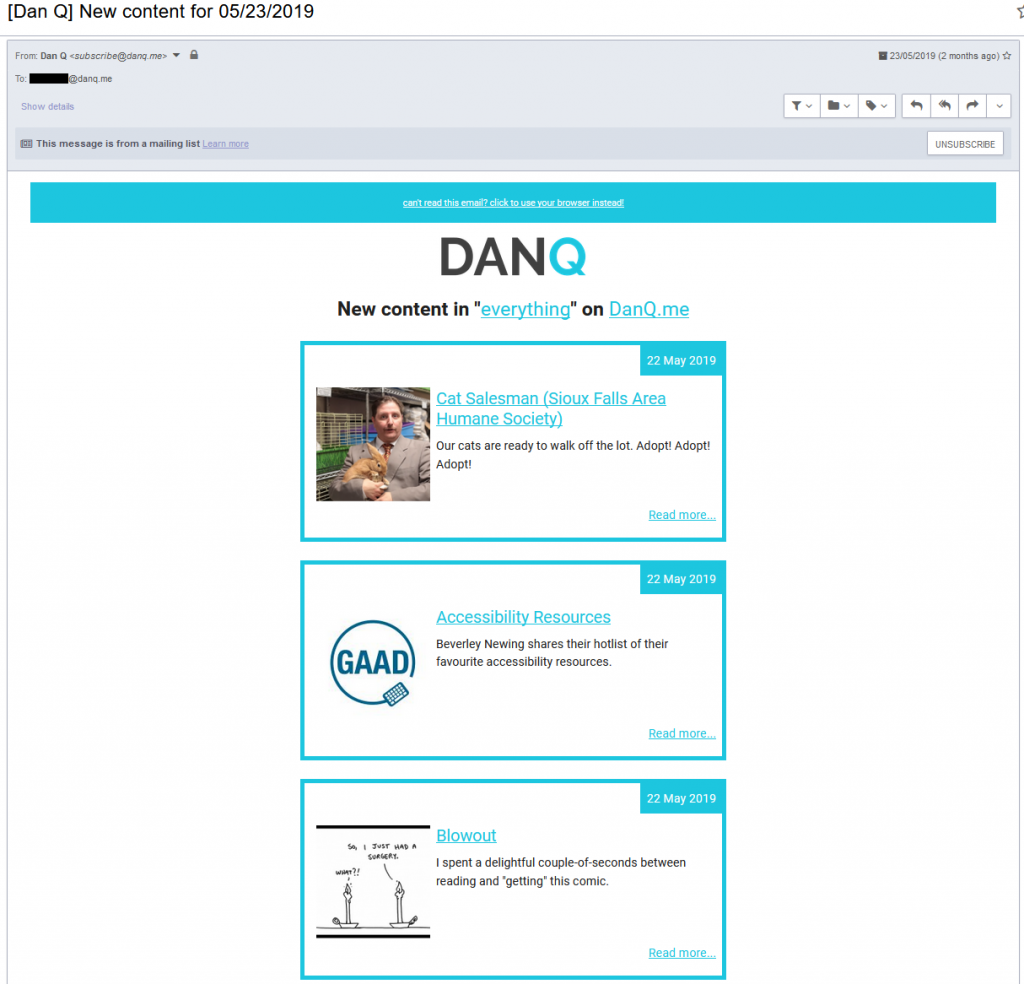 Finally, a couple of IFTTT recipes push my articles and my reposts to Reddit communities: I don't really use Reddit myself, any more, but I've got friends in a few places there who prefer to keep up-to-date with what I'm up to via that medium. For historical reasons, my reposts to Reddit don't go directly via my blog's RSS feeds but "shortcut" directly from my RSS reader: this is suboptimal because I don't get to tweak post titles for Reddit but it's not a big deal.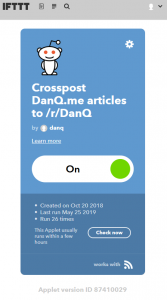 I used to syndicate content to Google+ (before it joined the long list of Things Google Have Killed) and to Ello (but it never got much traction there). I've probably historically syndicated to other places too: I've certainly manually-republished content to other blogs, from time to time, too.
I use Ryan Barrett's excellent Brid.gy to convert Twitter replies and likes back into Webmentions for publication as comments on my blog. This used to work for Facebook, too, but again: Facebook fucked it over. I've occasionally manually backfed significant Facebook comments, but it's not ideal: I might like to look at using similar technologies to RSSey to subvert Facebook's limitations.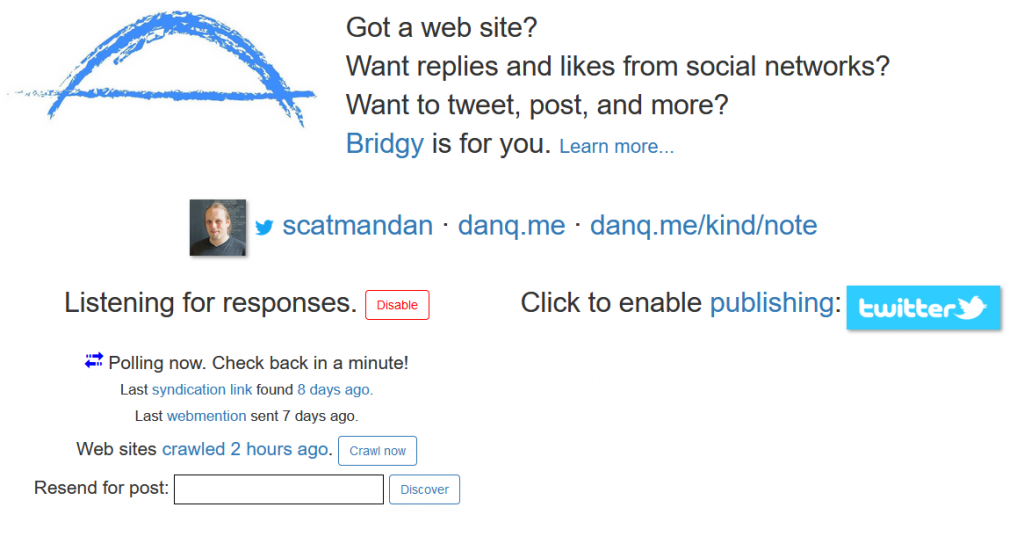 Reintegration
I've routinely retroactively reintegrated content that I've produced elsewhere on the Web. This includes my previous blogs (which is why you can browse my archives, right here on this site, all the way back to some of the cringeworthy angsty-teenager posts I made in the 1990s) but also some Reddit posts, some replies originally posted directly to other people's blogs, all my old del.icio.us bookmarks, long-form forum posts, posts I made to mailing lists and newsgroups, and more. As a result, there's a lot of backdated content on this site, nowadays: almost a million words, and significantly more than the 600,000 or so I counted a few years ago, before my biggest push for reintegration!

Why do I do this? Because I really, really like owning my identity online! I've tried the "big" silo alternatives like Facebook, Twitter, Medium, Instagram etc., and they've eventually always lead to disappointment, either because they get shut down or otherwise made-unusable, because of inappropriately-applied "real names" policies, because they give too much power to untrustworthy companies, because they impose arbitrary limitations on my content, because they manipulate output promotion (and exacerbate filter bubbles), or because they make the walls of their walled gardens taller and stop you integrating with them how you used to.
A handful of silos have shown themselves to be more-trustworthy than the average – in particular, eschewing techniques that promote "lock-in" – and I'd love to tell you more about them and what I think you should look for in a silo, another time. But for now: suffice to say that just like I don't use YouTube like most people do, I elect not to use Facebook or Twitter in the conventional ways either. And it's awesome, thanks.
There are plenty of reasons that people choose to take control of their own Web presence – and everybody who puts content online ought to consider it – but I imagine that few individuals have such a complicated publishing ecosystem as I do! Now you've got a picture of how my digital content production workflow works, and perhaps start owning your online identity, too.