Apparently I'm too cool for Facebook.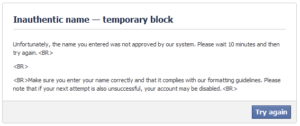 Okay, that's not what that message actually says, but that's how I chose to read it. It turns out that my name isn't real. I went through their forms to tell them that "no, really, this is my name". They also asked me "what I use Facebook for", to which I – of course – answered "chatting to friends and stalking exes, same as everybody else – why, what do YOU use Facebook for?" But when I submitted the form, it just ran me back around in a circle back to where I started.
Also: Facebook! Is that exposed HTML code in your message? Dear me.
I'd be less frustrated if I didn't just send them a copy of my driving license earlier this year, in order to prove that my name was really my name. I guess that the media claims that Facebook keeps all of your information indefinitely aren't true, and in actual fact they have the memory of a proverbial goldfish.
I'd be more frustrated if I actually used Facebook for anything more than pushing blog posts out to people who prefer to see them on Facebook, and occasionally chatting to people, thanks to the wonderful pidgin-facebookchat plugin.
So on average, I suppose, I'm pretty indifferent. That's the Facebook way.