After a few years break, I'm once again heading up to Edinburgh for the Fringe Festival. As on previous ocassions, I expect to spend a lot of time enjoying Peter Buckley Hill's Free Fringe, which is just about the best thing to happen to the Fringe ever. And this time, I'm going to be better-prepared than ever. I've made a map.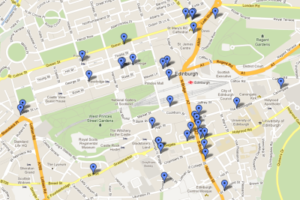 Sharing is caring, so I've made the map available to you, too. Click on the picture to see the map. Because it's in Google Maps it ought to work on your mobile phone. If you've got GPS then you can get lost in Edinburgh in high-tech ways you never before thought possible. Click on any given venue for a web address where you can find a list of events that are occurring at that venue.
Or if you're really nerdy, you can download the KML and go geocaching-for-comedy. Just me? Okay then…
Update: you can now view the map on the frontpage of the Free Fringe website, too.