Update: the funeral will take place at 4pm on Friday 2nd March, at Preston Crematorium.
On Sunday, my dad died.
And honestly, I'm not sure what else to say. There's nothing else left to say. It felt like my tweet – like all tweets – said too little, too. But I didn't want to keep anybody in the dark about this tragic news, so… well…
As I mentioned in December, my dad had planned a sponsored expedition to the North Pole, this April, in order to raise money for TransAid, a charity about whose work he was passionate. As part of his training, he was up on High Street, a fell in the Lake District, with his friend John. There, he lost his footing and slipped, falling over a 200 foot precipice. He was discovered to be dead when the air ambulance arrived; almost certainly killed pretty much instantaneously by the fall.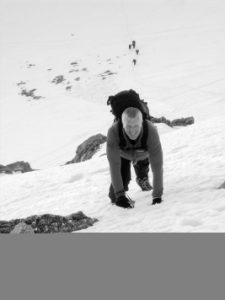 Since then, I've been in Preston, where my sisters, our mother, my dad's partner, and our friends have been trying to come to terms with this tragic loss, and to make arrangements for his funeral. We're keeping busy, which is probably for the best, right now. I'd like to say thank you to everybody who's sent cards, emails, or text messages: your thoughts and sympathies are really appreciated, and I apologise that there simply hasn't been time to reply to you all individually.
My dad died doing what he loved: exploring the outdoors, walking, climbing, and pushing his limits, in aid of a worthy cause that meant a lot to him. He was in incredible physical fitness, and I'd always suspected that 15 years from now, with him in his 70s and I in my 40s, he'd still have been able to outpace me on a scramble up Helvellyn's Striding Ridge.
I'm sad that that's a theory that I'll never be able to put to the test. I'm sad that my dad never lived long enough to see if he'd have any grandchildren. I'm sad that the world is so cruel as to deny us all those conversations left unfinished and those mountains left unconquered. I'm even sad that I'll never again get an out-of-the-blue call from him on some Saturday afternoon because he can't work out how to use his printer, or fix his Internet connection.
And I still don't know what to say. So for now, at least, that's all.
Update: Added photo and funeral info.