A a means to take a break from the code I was working on for half an hour (I'm doing some freelance work for SmartData in my spare time, since I left them to go and work for the Bodleian Library, in order to help wrap up a project that I was responsible for at the end of my time there), I decided to go downstairs and do some packing in anticipation of our upcoming house move.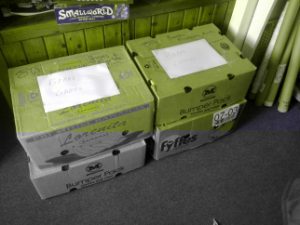 I packed about four boxes worth of board games, and then stood back to take a look at the shelves… and damnit, they look just as full as they did before I started.
I swear that my board game collection must be breeding, somehow. "Perhaps that's where expansion packs come from," suggests Paul. Perhaps: but that wouldn't manage to explain the optical illusion that makes it look like I've got four boxes full of games when in actual fact they're all still on the shelves, unless they're breeding as fast as I can pack them.
This might take a while.