I recently bought three board games (Munchkin 3, Fluxx and Puerto Rico) from ACME Computer Games in Bangor (yes, I know, the same guys who got confused over my order before…). Somehow, I don't think they get many e-customers: I just grabbed this screenshot from their web site –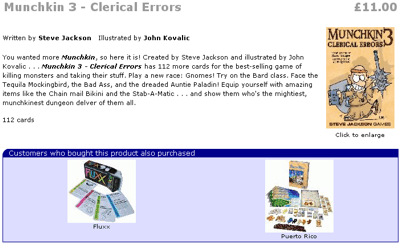 Notice that I'm looking at Munchkin 3, and the Customers Who Bought This Also Bought says… yes, my two other purchases. And nothing else. Hmm.
Still no sign of my order, or any word from them (I placed the order over a week ago). Better give them a bell, I think.