Adam provides a very practical, (well-manicured) hands-on guide: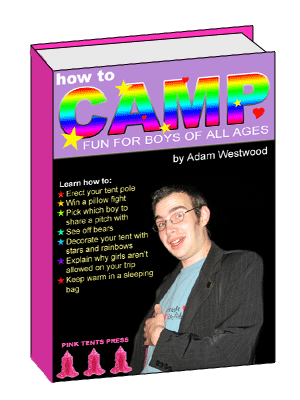 How To Camp
A Real Eye-Opener by C. Waltham
Mr. Westwood's new book provides an intelligent look at the problems that face many modern men when it comes to camping. The book answers key questions (such as "How do I hammer in tent pegs with a limp wrist?") in informal language, and is a perfect complement to your favourite gay or metrosexual man's bookshelf.
The section on dealing with unwanted bears – who can advance upon your camp without warning – is also a must-see. Great value.
Good, but not great by bookworm331
Like many men, I'm already familiar with Adam's work. I've been eagerly awaiting my pre-ordered copy of his new book for some time. Like his previous "how to" books, Getting Ahead By Giving Head and How To Pack Fudge, and his autobiography, A Gay Man Trapped In A Gay Man's Body, this book brings big answers into a tight space and expresses it all through Adam's friendly, approachable style.
He genuinely wants to help people get the most out of their camp experience, bending over himself to cover every angle of this homo-unfriendly pastime. I'll certainly be keeping Adam between my pillows next time I'm in a tent.
My only criticism is that it's a little on the heavy side, and if I'm in bed it can be hard to keep it up for more than a few minutes. Perhaps the upcoming soft-cover version will be a little more manageable. In the meantime, I'll be looking out for his supplementary volume, Camping Within Tent.
i dont get it by whiner
DO NOT BUY THIS BOOK!!!!11 I bought this book for my nephew and was shocked when I casually fingered the first few pages: the authros confession is clear – he was never a boy scout.
how can we trust in his integrity? as a straight white GOD-fearing man (never mind as an expert on all things camp-related) if he was never part of our nations most valuable anti gay youth movement. i repeat DO NOT BUY THIS BOOK