Video game movies are notoriously bad, no matter how awesome the game that inspired them. Wing Commander took a classic video game series and completely ruined it. Doom was incredibly dull, even though it was based on one of the most popular game series that have ever exited. Prince of Persia: The Sands of Time had so much potential and the chance to draw from the multi-rebooted Prince of Persia video games, but in the end its only redeeming feature was that it co-starred Richard Coyle, whose earlier appearance in hit comedy series Coupling lead Ruth, JTA and I to rename the film after his character from that series, calling it The Legend of King Jeff, which would honestly have been a better film.
And let's not forget the truly dire Street Fighter: The Movie, which ultimately lead to the short-lived arcade game Street Fighter: The Movie – The Game, attempting to cash in on the film before the developers realised that this wasn't actually a very good idea. And it's only the eighth-worst video game movie of all time, according to this video on GameTrailers. Let's face it: video games don't convert well to films.
That said, I've had an idea for a video game-inspired film that I think could really be good. Or, at least, so awful it'd be good.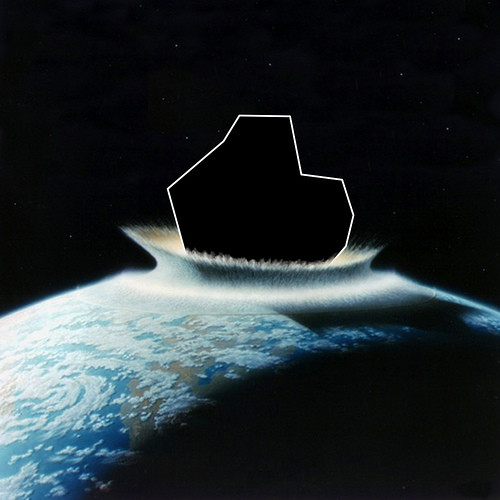 Don't you dare tell me that you wouldn't go to the cinema to see Asteroids: The Movie: CGI like this just has to be enjoyed on the big screen.
The plot is as follows: Earth governments have been secretly tracking an enormous asteroid for many years. Under the cover story of satellite launches, they've been firing nuclear weapons at long distances to try to destroy or deflect the mass, but all they've managed is to break it up into many hundreds of smaller (but still devastatingly-huge) rocks, many of which are still headed towards our planet.
We're introduced to our main characters: a cocky ace fighter pilot who's just been expelled from his wing group for being too cocky and ace, a young and immature geek who spends his life playing retro video games, and a love interest who spurns both of them and is probably employed by the shady government agency. Early in the film, she acts professionally and doesn't approve of the other main characters' respective aggressive self-confidence/childish behaviour, but eventually the three become closer as they work together (and probably save one another's lives a few times).
Recruited for their various "talents" they're recruited to pilot an experimental spaceship right out into the asteroid field and fire their cannons to destroy them. All is going well, but there are occasional sightings of fast-moving metallic objects around the edges of the field. These turn out to be aliens (in flying saucer like spaceships) who had originally propelled the enormous rock towards Earth in an effort to wipe out humankind, who they – as a result of their warlike culture – perceive as a threat to their galactic dominance. Earth has been on the brink of cracking faster-than-light travel for a while now, as evidenced by secret test flights of the ships which preceded the vessel used in the movie, and this makes the aliens twitchy.
There's a fight, and it momentarily looks like the aliens stand to destroy the human ship. "This isn't a video game: we don't get extra lives!" shouts the love interest character, at one point. "No," agrees the geek, "But we do have this…" He engages the highly-experimental "hyperspace jump drive" and the ship disappears just seconds before the alien missiles destroy it.
While drifting in hyperspace, the crew find evidence of the aliens' culture and history, and the other planets they've destroyed. They also discover a possible weakness. They're just beginning to understand what they have to do when they reappear in normal space, apparently only a split second after they disappeared. The chase is on as the aliens pursue the humans through the asteroid field in an exciting chase scene. Finally, the humans discover what they need to do to penetrate the alien shields, and fire upon them. They rush away as the alien ship explodes, vapourising the remaining asteroids as it goes.
The crew return to Earth as heroes.
Now: isn't that at least as good as whatever Hollywood would come up with? And it'd certainly be far better than the Super Mario Brothers movie.
Hmm. Further research indicates that this might be already going to happen…