This checkin to geohash 2022-12-05 51 -1 reflects a geohashing expedition. See more of Dan's hash logs.
Location
Bridleway behind Cokethorpe School, West Oxfordshire, UK.
Participants
Expedition
When I saw this hashpoint appear I thought to myself: that's eminently achievable! I hoped I might be able to slip away from work for a lunchtime cycle to claim it.
But the gods of technology didn't approve of my plan and turned my workday into a catastrophe of the kind that only a computer can, and the chance of taking a long lunch evaporated quickly. But fortune dealt me a second hand when the weather held off into the evening, and I instead opted for a post-dinner huckle in the dark out to this hashpoint.
I set out around 18:30, South through Stanton Harcourt then North up the adorably-named Ducklington Road. It took some time to sight the somewhat-concealed bridleway around the hill of Cokethorpe School. And then, another challenge – navigating by OpenStreetMap I missed my turning and went straight through a farmyard, and had to carry my bike over a fence at the other end. Turns out the map is wrong and I later found a sign indicating the true course of the bridleway; I'll get that corrected.
I abandoned my bike for the final 50 metres, trekking through the thick grass of an unmown meadow to the hashpoint and arriving around 19:00. No panoramic photo today it's too dark – but you get a silly grin.
Pleased with this fast expedition, I diverted on my route home to the Harcourt Arms pub for a pint of their surprisingly-delicious seasonal guest ale, Fairytale of Brew York, which genuinely tastes like stollen. There, I wrote up this expedition report, but I'll have to get home before I can extract my GPSr's tracklog.
Tracklog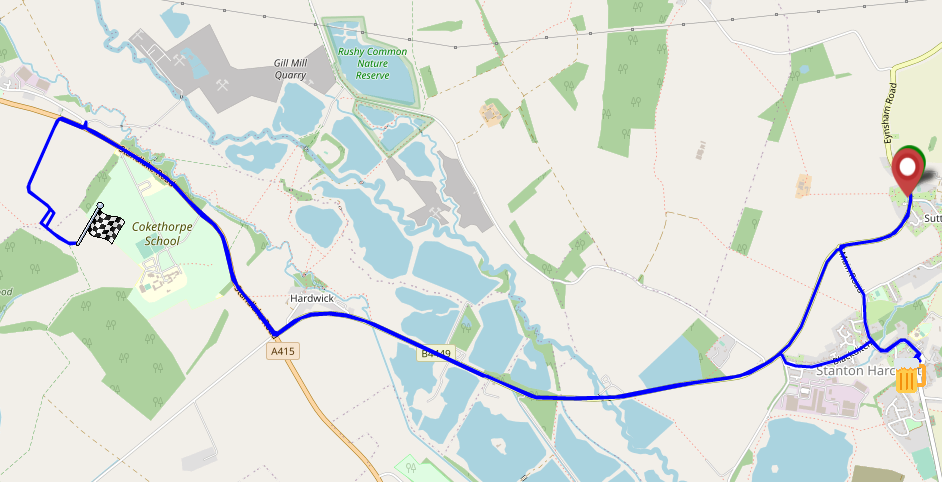 P
hotos