This checkin to geohash 2022-12-02 51 -1 reflects a geohashing expedition. See more of Dan's hash logs.
Location
Just off the driveway to Appleton Cricket Club, South-West of Appleton.
Participants
Plans
I don't know if I'll be able to make it to this one, but if I can I'll cycle over there on my lunch break or right after work.
Expedition
The dog was making an attention-seeking nuisance of herself while I was trying to work today, so I wrapped up all the critical things I needed to do so I could take her our for a walk this afternoon to try to wear her out. I'm moderately familiar with Appleton – I have a regular cycle circuit that comes right through it! – but I've never been out to the cricket club and sports field, so I pointed the hashing hound in the right direction and let her lead the way.
At first it looked like this was going to be a successful expedition: the needle on my GPSr pointed almost directly ahead as I walked up the lane towards Appleton Sports Field. But as I got closer, I realised to my disappointment that the hashpoint was going to be about 25 metres into the adjacant field, guarded by a trio of bullocks. At 15:00 I declared the expedition a failure. The doggo and I completed an exploration of the lane and had a look around the sports field, spotted a pair of muntjack deer ambling around, and then headed back home.
I'll be back in Appleton later today to buy a Christmas tree, so I'll wave at the cattle as I go past, again.
Tracklog
My GPSr kept a tracklog; note that this was an "on the way" stopoff so the start and end point isn't the same!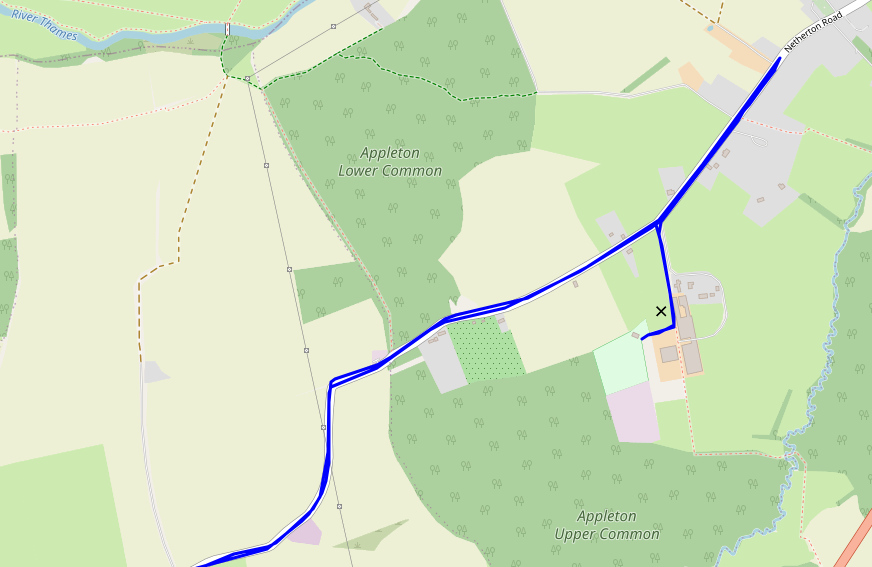 P
hotos