Today, my cycle helmet might have saved my life.
This morning, I was cycling to work along my usual route, National Cycle Network Route 51, on its final leg down Banbury Road to Parks Road. Here, the cycle route shares its path with a bus lane, and – on a warm, bright morning like this one, having a broad, flat lane is a great opportunity for a strong cyclist to make great time in a safe environment.
As I approached the bus stop, a spotted a car in the lane to my right, just ahead, slow down and turn on it's indicator to turn left: it was heading for one of the driveways. But when the car began its maneuver, a split second later, I realised that the driver had not seen me. Perhaps she'd not checked her mirrors before turning? Or perhaps she'd only glanced (and seen no buses in the bus lane – just me and the second cyclist behind me)? Or perhaps she'd underestimated my speed, or dramatically overestimated her ability to get into the driveway before I reached her? In any case, she turned out to be wrong. I hit my brakes as sharply as I safely could, but it wasn't enough to stop me from ploughing right into the side of her bonnet.
I'm not entirely sure what happened next. At the time, it felt like everything went into slow motion: a gentle flight through the air followed by a gradual landing on the other side, and that I'd be able to recall every single moment. But, probably as a result of the blow to my head (which as I've discovered before can have profound and confusing effects on memory), my memory of everything from a few seconds before the collision onwards is fuzzy and fragmented. But I spoke to the driver (a woman with dark hair), to the cyclist behind me (who was wearing a white t-shirt), and to a man who came out of a nearby building (who spoke with an accent – these details are the only things I can reliably remember about any of them), and based upon their descriptions – any my injuries – I've managed to piece together broadly what happened.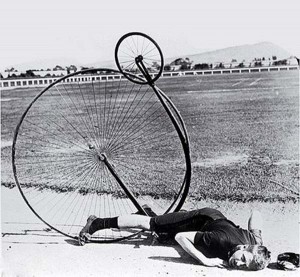 I hit the side of the car and flipped forward, throwing myself, some of the contents of my pannier bag, and my D-lock into the air. My handlebars knocked a dent into the bonnet of the car, and the lock landed elsewhere on it, but I flew clear over the car and flipped around in the air. I'm not sure how I landed, but it was probably on my back, because I struck the backs of my head, right shoulder, and elbow… but I must have rolled, because I also managed to scrape and graze the front of my legs.
I initially thought that I was fine (though I was clearly in shock), but I discovered about a quarter of an hour (or thereabouts: I've only been able to piece together a timeline in hindsight) that I was in more pain than I'd first thought, was feeling intermittently dizzy, and was unable to remember the details of the accident or even what day of the week it was. I asked for a taxi to be called for me and rode to the hospital, where they cleared me of anything seriously wrong (spinal injuries, serious concussion, broken bones, etc.) and sent me home for a day of lying down and mainlining NSAIDs.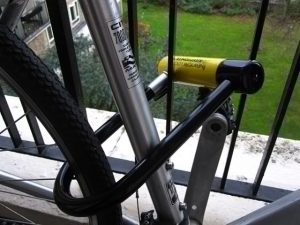 Now it's the early evening. I'm still far from entirely "with it": I feel like my brain's been rebooted into safe mode – I seem to be incapable of decent multi-tasking (for example: I can have a conversation with you, or can listen for my name being called by the doctor, but not both). I've got aching shoulders and arms and a bit of a limp. And I've been pretty much exhausted the whole day.
But here's something: if I'm right about the angle I landed at, based on where I hurt the most, then it's possible that my cycle helmet saved my life, today.
Wear your cycle helmet, folks.