Right now, Three Rings seems to be eating up virtually all of my time. It's hardly the first time – I complained about being incredibly busy with Three Rings stuff just a couple of years ago, but somehow right now it's busier than ever. There's been the Milestone: Jethrik release, some complications with our uptime when our DNS servers were hit by a DDoS attack, and – the big one – planning for this weekend's conference.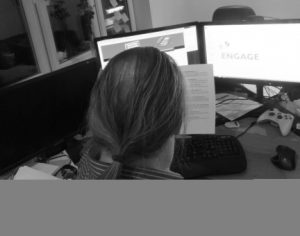 The Three Rings 10th Birthday Conference is this weekend, and I've somehow volunteered myself to not only run the opening plenary but to run two presentations (one on the history of Three Rings, which I suppose I'm the best person to talk about, and one on being an awesome Three Rings Administrator) and a problem-solving workshop. My mind's been on overdrive for weeks, and I'm pretty sure I'm not even the one working the hardest (that honour would have to go to poor JTA).
Still: all this work will pay off, I'm sure, and Saturday will be an event to remember. I'm looking forward to it… although right now I'd equally happily spend a week or two curled up in bed under a blanket with a nice book and a mug of herbal tea, thanks.
In other news: Matt P's hanging out on Earth at the moment, (on his best behaviour I think) while Ruth, JTA and I decide if we'd like to live with him for a while. So far, I think he's making a convincing argument. He's proven himself to be house trained (he hasn't pooped on the carpet even once) and everything.