Oh yeah: I changed the look-and-feel of scatmania.org the other week, in case you hadn't noticed. It's become a sort-of-traditional January activity for me, these years, to redesign the theme of my blog at this point in the year.
This year's colours are black, white, greys, and red, and you'll note also that serifed fonts are centre-stage again, appearing pretty-much-universally throughout the site for the first time since 2004. Yes, I know that it's heavier and darker than previous versions of the site: but it's been getting fluffier and lighter year on year for ages, now, and I thought it was time to take a turn. You know: like the economy did.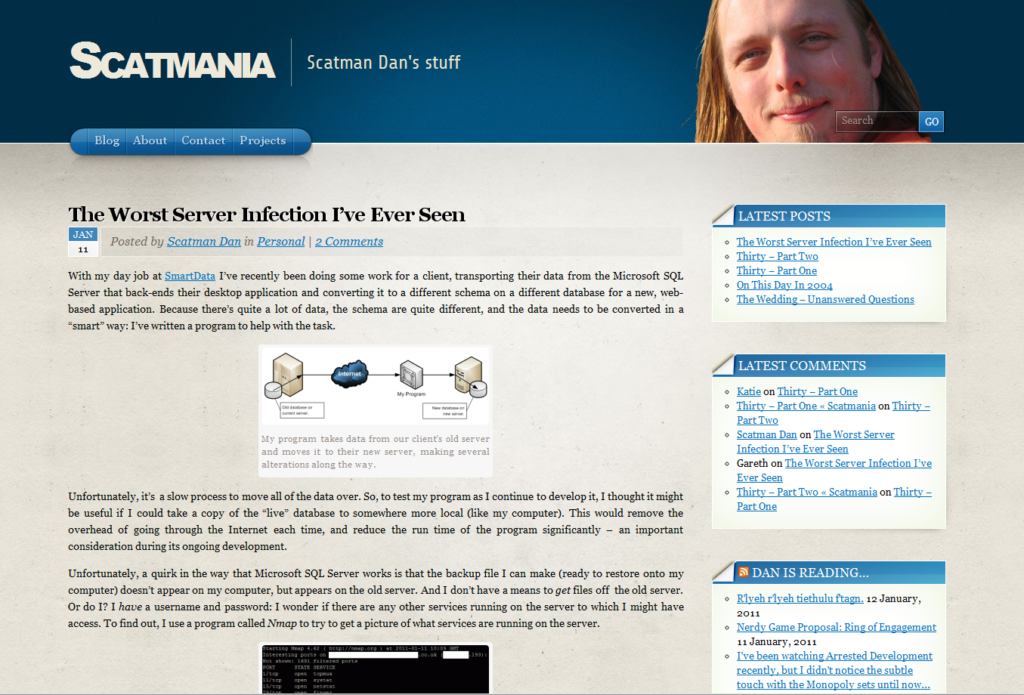 Aside from other cosmetic changes, it's also now written using several of the new technologies of HTML5 (I may put the shiny new logo on it, at some point). So apologies to those of you running archaic and non-standards-compliant browsers (I'm looking at you, Internet Explorer 6 users) if it doesn't look quite right, but really: when your browser is more than half as old as the web itself, it's time to upgrade.
I've also got my site running over IPv6 – the next generation Internet protocol – for those of you who care about those sorts of things. If you don't know why IPv6 is important and "a big thing", then here's a simple explanation. Right now you're probably viewing the IPv4 version: but if you're using an IPv6-capable Internet connection, you might be viewing the IPv6 version. You're not missing out, either way: the site looks identical: but this is just my tiny contribution towards building the Internet of tomorrow.
(if you really want to, you can go to ipv6.scatmania.org to see the IPv6 version – but it'll only work if your Internet Service Provider is on the ball and has set you up with an IPv6 address!)