…

VPNs have long been essential online tools that provide security, freedom, and most importantly, privacy. Each day, hundreds of millions of internet users connect to a VPN to prevent their online activities from being tracked and monitored so that they can privately access web resources. In other words, the very purpose of a VPN is to prevent the type of surveillance that Google engages in on a massive and unprecedented scale.

Google knows this, and in their whitepaper discussing VPN by Google One, Google acknowledges that VPN usage is becoming mainstream and that "up to 25% of all internet users accessed a VPN within the last month of 2019." Increasing VPN usage unfortunately poses a significant problem for Google, by making it more difficult to track users across the internet, mine their data, and target them with advertisements. In short, VPNs undermine Google's power.

…
So yeah, it turns out that Google are launching a VPN service. I just checked, and it's not available to me anyway because it's US-only (apparently nobody explained to Google the irony of having a VPN service that's geofenced), but that's pretty academic because I wasn't going to touch it with a barge pole in the first place.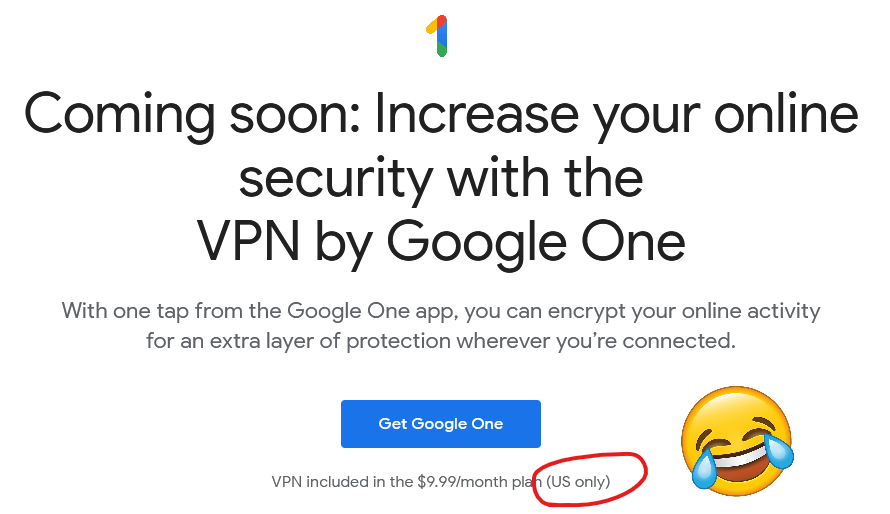 Google already collect data on your browsing habits if you use their products. And I'm not just talking about Chrome, which of course continues to track you using your Google Account even after you log out and clear your cookies, and Google's ubiquitous Web tools, but also the tracking pixels hidden on every other website thanks to Google Analytics, AdWords, reCAPTCHA, Google Fonts, and the like. Sure, you can use e.g. uMatrix to stop all of these (although I'm in need of a replacement), but that's not a solution for, y'know, normal people. Container tabs help and you should absolutely use them, but they don't quite go far enough. It's a challenge.
Switch to their VPN, though, and they're suddenly able to track all of your browsing activity, in any browser on your device. And probably many of the desktop applications you run, too, as most of them "phone home" for updates or functionality. And because it's a paid-for VPN service, this data can be instantly linked to your real-world identity. By a company that's demonstrated its willingness to misuse that data for their own benefit (or for the benefit of overreaching law enforcement agencies). Yeah: no deal, Google.
Perhaps the only company I'd trust less to provide a VPN service would be Facebook, because you just know they'd be doing so exclusively to undermine individual privacy. Oh wait; that's exactly what they did. Sigh.