Earlier this year I found a mystery cable. But today, I've got an even bigger mystery. What the hell is this?
I found it in a meeting room at work, tucked away in a corner. Aside from the power cord, there are no obvious interfaces to it.
My best bet is that it's some kind of induction-based charger? I imagine some kind of device like a radio microphone or walkie-talkie that can be pushed-in to these holes and the button "spring" is just about closing the hole when it's not in use. But the box is old, based on the style of plug, cable, and general griminess of the hardware… not to mention that it's got a stack of PAT test stickers going back at least 11 years.
I've plugged it in and tried "pressing" the buttons but it doesn't appear to do anything, which supports my "induction charger" hypothesis. But what does it charge? I must know!
Edit: The only Electrak I can find make lighting control systems. Could it be something to do with lighting control? I can't find anything that looks like this on their website, though.
Edit 2: Ah-hah! Looks like it's some weird kind of electrical socket. You put the key-shaped plug in and "twist".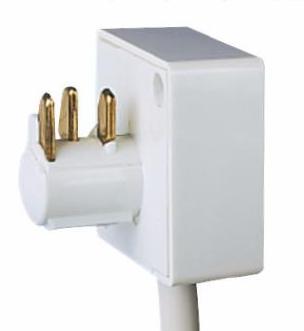 Edit 3: Hang on a minute… the most-recent PAT test sticker indicates that it was tested in… November 2019. Now my working hypothesis is that this is some kind of power supply system for a time machine we haven't yet built. I've asked a number of colleagues what it's for (i.e. what plugs into it) and nobody seems to have a clue.