This blog post is about Marmite. I apologise if it makes you hungry, nauseous, or confused.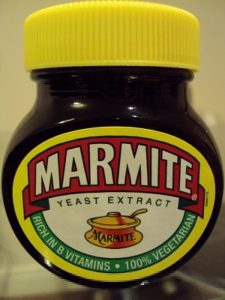 My partner enjoys Marmite. This isn't a surprise: I've known it for years. Some weekend mornings I've seen her enthusiastically scoff down some Marmite on toast, and I've known times that she's been feeling run-down and hungry and the prospect of a bit of Marmite is exactly what she needs to get her motor running again. She doesn't eat it all the time, but she likes to keep a jar around in anticipation: Marmite lasts pretty much forever, so there's no hurry.
It's only since living with her, though, that I've seen so much of the strange sticky substance as I have. That's not her doing, I'll stress: she's always respectful of the fact that I seem to just be one of those people who's just never going to be a Marmite-eater, and she doesn't surprise me with Marmite-infused foodstuffs. In exchange, I try not to complain whenever I can smell that the jar is open.
Her husband enjoys Marmite too. Sometimes she makes Marmite whirls, pastry spirals with a sharp taste of Marmite, and I think she does so mostly because she knows that he enjoys them so much. I honestly don't know how often he eats the stuff other than when she serves it: occasionally, I guess.
I've only recently kept Marmite in my cupboard: it's a new addition to my food supply. Are my partner and husband responsible for this? No… well, only insofar as that they once reminded me that they keep Marmite in the house: "We keep our Marmite in this cupboard," they said, and that was that. (sometimes they disagree on which shelf the Marmite belongs on, but more often than not they're in agreement)
But now there's Marmite in my cupboard. I'm not sure why I keep it there. I still don't really like Marmite, although I think that with experience I've learned to appreciate what others see in its flavour, even if it doesn't sit comfortably in me.
I look at the jar of Marmite in my cupboard. "Why are you there?" I ask it, "What am I supposed to do with you?" It doesn't answer. It is, of course, only Marmite. I realise that I'm standing alone in the kitchen, talking to my shelf, and I feel a little stupid. But it's a puzzle that I can't solve: how did the Marmite even get into my cupboard? I certainly didn't buy it. Did it… put itself there?
Time for some buttered toast.
This blog post is not about Marmite. My apology still stands.