Ruth, JTA and I had a fabulous Valentine's Day evening, last night. Over the last few years we seem to have drifted into treating Valentine's Day as being a general celebration of love, and those we love, rather than specifically about any particular relationship, as Ruth explained quite eloquently to the student journalist that interviewed us the previous day – more on that in a future blog post.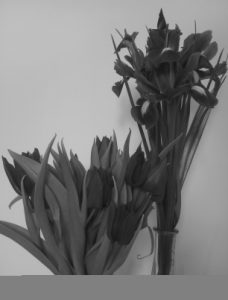 It's true. Anniversaries and our "date nights" are already an opportunity to celebrate the individual relationships between Ruth and I, and between Ruth and JTA. Meanwhile, JTA and I's "Greek nights" are our chance to reinforce our platonic bond (over copious quantities of beer and whisky, and generally, diversion into gossip, public transport, and philosophy – often in that order). Valentine's Day is one of our slightly-rarer "vee nights": when the three of us make a deliberate effort to do something special as a threesome.
Paul's away this week, so we had New Earth to ourselves, and so mushrooms were on the menu (Paul really doesn't like mushrooms, and the rest of us do, so it's become a special treat that we eat lots of mushrooms on nights that we're eating without him). We set a candlelit table, and I had a go at making a mushroom wellington, which turned out remarkably well despite the fact that I've cooked virtually nothing involving pastry for over a decade. Keeping with our "food that's rolled up" theme, Ruth had produced a fantastic black forest roulade.
And so the evening wore on, and we ate copious quantities of doughnuts, and drank a lot of pink fizzy stuff, and re-watched Pirates of the Caribbean: The Curse of the Black Pearl.
Celebrating love (for as many people as you have) without buying into Valentine's Day consumerism. Yeah, that sounds pretty good to me.