It occurred to me last night, as I was thrashing Jimmy at Wii Sports Tennis and Boxing last night, before we whipped out Golden Axe for some proper old-school co-op beat-'em-up fun, that I hadn't yet made a blog post to follow up the one I made before the weekend. So, here it is.
Haircut
I've had my hair cut. This wouldn't necessarily be so notable if it wasn't for the fact that I haven't done so in… oooh, about 8 years? Maybe more? I woke up on Saturday morning and decided to change it from reaching to my bum to barely reaching my shoulders.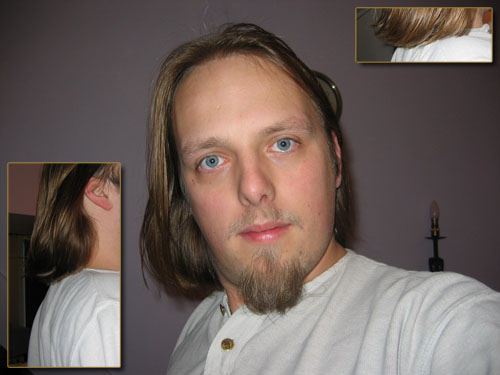 It's taking some getting used to. Whenever I pull a shirt on I still instinctively reach behind my head to pull my hair out from it, and I'm cautious of sitting on it when sitting down.
DanceSoc and Troma Night
Saturday night's DanceSoc event – Diversion – was great. Beth, Claire and I – along with Jimmy, who came with an open mind but left once he realised that drinking wasn't solving the problem of him not liking the music – drank excessively and danced wildly. Perhaps indicative of my dancing, at least two separate people tried to buy ecstasy from me (WTF?). It was surprisingly busy in The Bay (both upstairs and downstairs), possibly a result of exam week ending, which helped create a great atmosphere.
Meanwhile, I gather from the discussion on Paul's blog, Troma Night failed to kick off. Less good.
Gorillamania 1
Sunday night was the Gorilla Monsoon comedy night, at which I was the first act. The turnout was reasonable, albeit late and seemingly about half made-up of people I know: particular thanks are due to the people who went out of their way to lend me their support – Heather, who looked quite unwell and probably should have stayed in bed, and Gareth and Penny, who zipped over from Cardiff just in time – but a big thank you to everybody who came really!
In the end, though, I disappointed myself a little. The audience laughed at the right places, and groaned at the right places, and the whole segment about bumblebees went down a storm, but I was far too nervous to perform as well as I could have: I forgot a few key gags, on at least one occasion I needed to consult my "panic card" (a 12-line reminder of my show, written on the back of a business card and hidden behind the amplifier), which is usually only there for reassurance, and I generally know that I could have done better. It was good, but it wasn't great, but I know exactly where I went wrong and what I need to do to fix it.
The comedians from Cardiff were fabulous, too. Of particular note was my favourite of Clint Edwards' jokes, which I applauded but which nobody else seemed to have got (it relies on knowledge of police issue firearms to be as funny as it could be, which is a brave thing for a comedian to rely upon). Not only did this trio's skills lead to an entertaining night, but it's also valuable networking: a little more practice down the line, and I might find myself with an opportunity to perform in Cardiff with them. Win.
The Parcel Mystery
I realise that I never really answered questions asked of me about Matt's strange parcel, which arrived the other day. The Guinness glasses box turned out to contain Tesco cookies! A big thank you is due to Matt, there, then. Oh, and Paul – we've still got your carton of juice: come drink it at some point.
Right; that'll do for the updates for now.