Checking my GMail account this morning, I noticed an unusual icon in the lower-right corner of the browser window: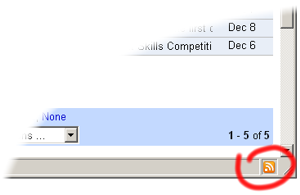 It turns out that Google's GMail service seems to be testing an ATOM feed – a kind of syndication feed (similar to those used by weblogs and news sites – see Scatmania's ATOM feed) that can be 'subscribed' to from your desktop computer.
Right now, the GMail feed looks pretty bare:
Nonetheless, this is an interesting turn of events – didn't Google recently say that no other automated mail checking tools were to be used except for their own GMail Notifier (sorry, can't find a news story to link)? But now it looks like they're working on developing a format by which anybody can 'subscribe' to their own inbox (although probably only using a web browser – the non-browser-based XML readers seem to have difficulty with cookies, which are likely to be required.
It's all interesting.