This checkin to geohash 2022-02-20 52 -1 reflects a geohashing expedition. See more of Dan's hash logs.
Location
Outside a warehouse full of sheet aluminium, Kitts Green Road, Birmingham.
Participants
Plans
I'm hoping to find the 2022-02-19 52 -2 hashpoint one day earlier and one graticule over, and I think I can stretch the range on the electric car enough to be able to return home via this hashpoint too.
Update: managed to change the car after finding the 2022-02-19 52 -2 point, so I can make this. Probably be there about midday, weather-permitting.
Expedition
Following my successful expedition to 2022-02-19 52 -2 (which completed level 6 of my minesweeper grid) I stayed overnight in a delightful converted hayloft near the hashpoint before pressing on the following morning to this hashpoint (via a whole series of delightful geocaches in and around the village of Blakedown).
I didn't expect much of this hashpoint, but I wanted the excuse to recharge the car before going for another leg of my journey – either a trip up to visit a friend in Lichfield or else a hashing expedition one graticule further East where today's hashpoint seemed to be in a graveyard! But more on that later.
I parked at the Morrisons car park at (52.757778, -1.752222) at 14:48 and hooked up to the charger there (once I eventually found it). I had some difficulty making it work, but it seemed to get started eventually. Then I began my walk to the hashpoint. This was far from the picturesque walk of yesterday, taking me through a series of housing estates that were nondescript at best, unpleasantly scuzzy at worst. Shooting video as I walked, I was at one point loudly mocked by a group of young men passing in an artificially-loud car, but it was an activity that soon had to end anyway as the rain began to pour down. At around 15:11 my GPSr ran out of battery power (I'd failed to find its charging cable the night before) and there's a clear gap in my tracklog: fortunately I was also equipped with not one but two backup devices (my phone, of course, and my watch), so I was able to continue heading in the right direction, and when I found a convenience store near (52.739167, -1.998333) I bought some AA batteries (my GPSr can have its rechargeable battery removed and 3 × AA batteries put in its place to allow it to continue) and pressed on to the hashpoint.
As anticipated, the hashpoint was on a road dividing a light industrial park from a housing estate, right outside a plant specialising in bending plate aluminium; I reached it at 15:23:48. I walked back the same route as the rain began to fall more and more heavily: by the time I reached the car it had become torrential. The dubious charging point I'd used had taken £16 from my bank card but provided only enough charge to take the car from 66% to 67% battery, which – combined with the rapidly-worsening weather – made me rethink my plans to visit Lichfield or explore further East and I instead used my remaining distance to take a long (slow, wet, diversion-filled) drive home. Ugh.
Tracklog
My GPSr kept a tracklog of my entire two-day expedition: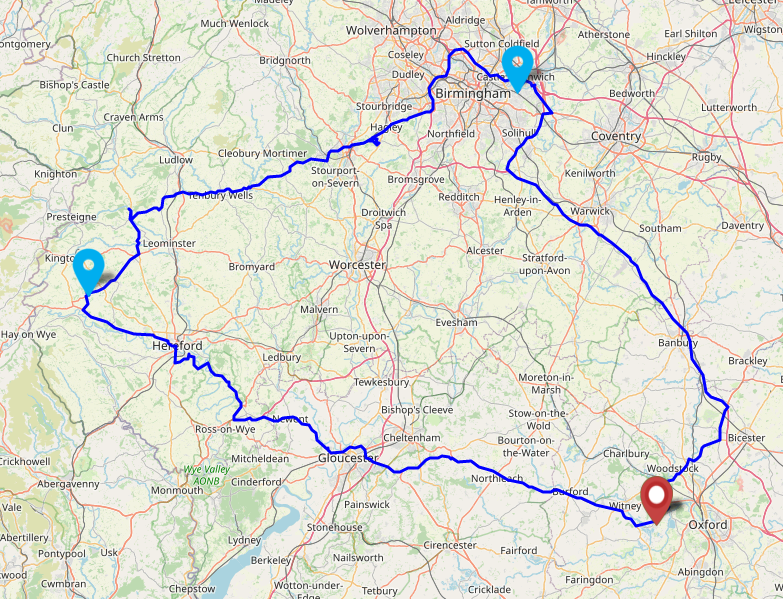 P
hotos
I shot video of most of this expedition but don't have time to edit it, so here are stills from the video instead: