This checkin to geohash 2020-08-29 54 -2 reflects a geohashing expedition. See more of Dan's hash logs.
Location
Towpath alongside the Lancaster Canal
Participants
Dan Q & Robin (dragalong)
Plans
I (Dan Q) am driving my partner's brother Robin from near Oxford to near Penrith on this day, so I expect to pass close by this geohashpoint on the M6 twice; at around 13:00 going North then about 15:00 going South. It looks like there's on-street parking on nearby Ashford Avenue (N 54° 1.71′, W 2° 48.370′), so I'm thinking we can pull over there, walk to Deep Cutting Bridge, follow a path about 700m Northwest down into the canal cutting, then follow the canal back Southeast to the hashpoint. Robin's never been geohashing before, so we'll see what he makes of it.
The biggest risks to this plan are likely to be (a) if we run late setting off, hit traffic, or are otherwise delayed then we may have to cancel our plans in order to stay on-schedule, and (b) based on local photos it looks like the towpath floods and/or gets incredibly boggy in wet weather!
Expedition
This all went pretty-much to plan. We parked on Ashford Avenue and walked to the bridge, then onto the long path down. We soon got bored of this trail and took a short-cut down the cutting slope, then proceeded back under the bridge while Robin told me about how he rowed along this stretch of canal during his recent Lands End to John O'Groats journey.
On the other side of the bridge we discovered that the hashpoint was about 25 metres up a steep bank covered with thorny plants. Not wanting to be defeated at this point, Robin boosted me up onto the bank and I scrambled painfully through the brambles to reach the hashpoint, which coincided with a tree overlooking the cutting.
Returning to the car we stopped by geocache GC6WMEW, from whose GZ one can just about see the tree that marks the hashpoint. We added a "The Internet Was Here" sign to the gate at the path down to the towpath and continued our long journey North-and-back-again.
Tracklog
My GPSr keeps a tracklog: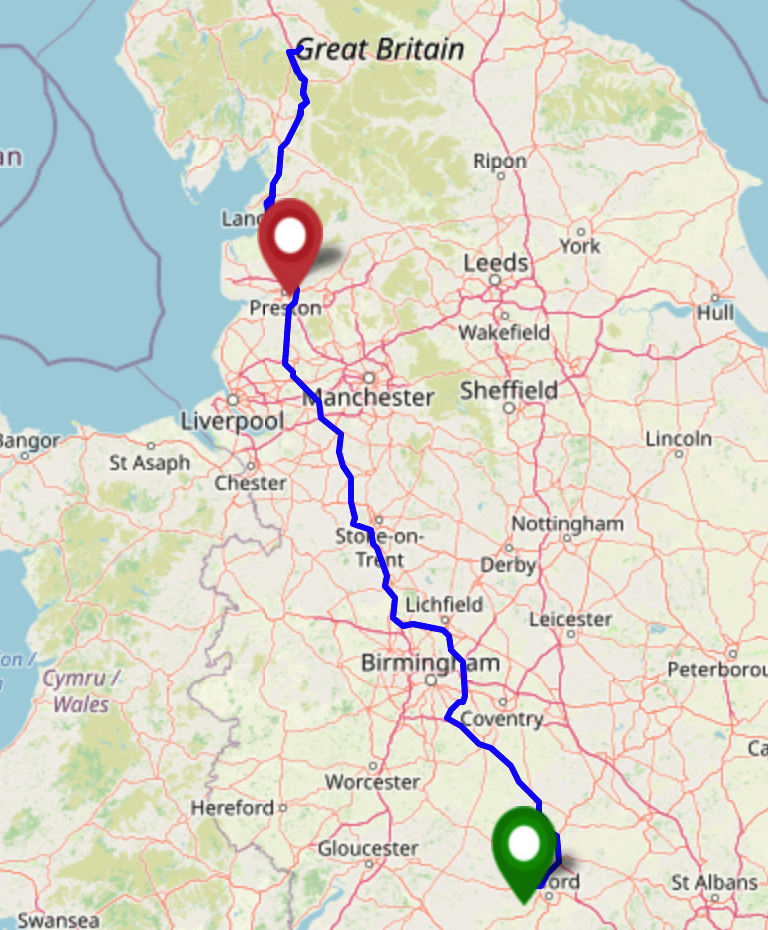 Photos & Video