This checkin to geohash 2020-08-19 51 -1 reflects a geohashing expedition. See more of Dan's hash logs.
Location
Field alongside Cote Ditch, West Oxfordshire.
Participants
Plans
If I get out early, before I start work, I (Dan Q) might be able to make it to the hashpoint by bike before about 9am. Most of the fields round here have already been harvested and so nobody's likely to object if I step into this one for a couple of minutes (it looks like there's a promising looking gate at N 51°43.2′, W 1°29.722′).
Expedition
I was out and about anwyay, dropping my kids off at rehearsals for a play they're in later this week, so I figured it'd do no harm to swing by Cote – the settlement nearest the hashpoint – this morning. Cote turns out to be a delightful and quaint little hamlet, and when I passed through everybody and their dog seemed to be out on a morning constitutional and I got a few odd looks from the locals who are, on account of their hamlet's location, probably unused to "through" traffic and so may well have been wondering who exactly I was visiting!
Round here most of the farms grow wheat, and it's harvest season. I had to pull aside on one of the narrow roads that criss-cross this part of Oxfordshire to allow a combine harvester – fully the width of the entire road! – to pass in the opposite direction. It was followed closely by a line of impatient drivers crawling along behind the enormous mechanical beast, and I was glad to be going the other way! When I first saw that the hashpoint appeared to be in a field I was optimistic that it might be one that had been recently harvested, like all the ones near my house, or else left fallow, and I'd be able to get close to the hashpoint without causing any disruption.
Unfortunately, the field with the hashpoint was very-much still growing, full of corn for harvesting later in the season, so my expedition ended abruptly at the gate. I took a sad-face photo and attached a "The Internet Was Here" sign to the gate, for good measure (and perhaps as an explanation to the locals who looked at me curiously as I passed!), then continued my journey home.
Tracklog
My GPSr keeps a tracklog: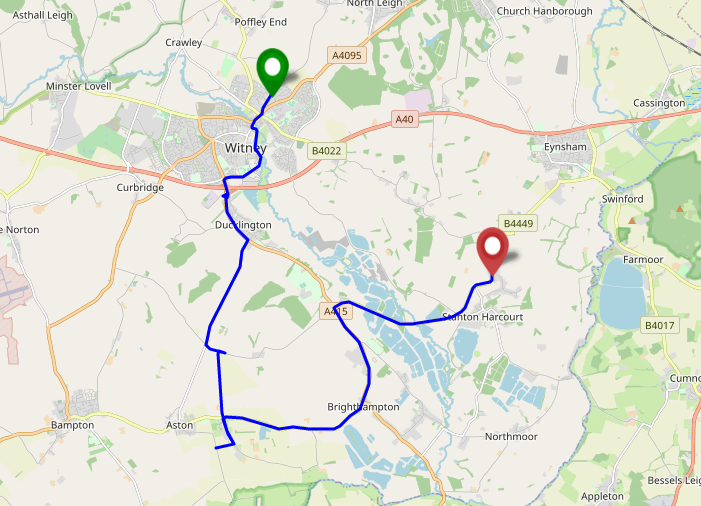 Photos