After the success of Challenge Robin this summer – where Ruth and I blindfolded her brother Robin and drove him out to the middle of nowhere without his phone or money and challenged him to find his way home – Robin's been angling for a sequel. He even went so far as to suffix the title of his blog post on the subject "(part 1)", in the hopes perhaps that we'd find a way to repeat the experience.
In response to an email sent a week in advance of the challenge, Robin quickly prepared and returned a "permission slip" from his parents, although I'm skeptical that either of them actually saw this document, let alone signed it.
With about a day to go before the challenge began, Robin's phone will have received a number of instructional messages from a sender-ID called "Control", instructing him of his first actions and kicking off his adventure. He'd already committed to going to work on Friday with a bag fully-packed for whatever we might have in store for him, but he doubtless wouldn't have guessed quite how much work had been put into this operation.
By 18:06 he still hadn't arrived to meet his contact. Had this adventure fallen at the first hurdle? Only time would tell…
Update – Friday 9 November 18:45: Robin arrived late and apologetic to find his contact, "Frowny", at the GBK at that address, was played by JTA.
The pair ate and drank and "Frowny" handed Robin his first clue: a map pointing to Cornwall Gardens in Kensington and instructions on where to find the next clue when he got there. The game was afoot!
Clearly he'd taken the idea of being prepared for anything to a level beyond what we'd expected. Among his other provisions, he was carrying a tent, sleeping bag, and passport! "Clearly my mistake," he told his contact, "Was giving intelligent people a challenge and then leaving them three months to plan."
Update – Friday 9 November 19:53: In Cornwall Gardens, Robin found the note (delayed somewhat, perhaps by the growing dark) and began his treasure trail.
Soon after, though, things started to go very wrong…
Update – Friday 9 Novembr 20:40: Let's take a diversion, and I'll rely on JTA to keep Robin's eyes away from this post for a bit. Here's what was supposed to happen:
Robin would follow a trail of clues around London which would give him key words whose names alluded to literature about Paddington (station) and Penzance. Eventually he'd find a puzzle box and, upon solving it, discover inside tickets for the Paddington-to-Penzance overnight sleeper train.
Meanwhile, I've been rushing around the countryside near Penzance setting up an epic extension to the previous trail complete with puzzles, mixed-terrain hikes, highlands, islands, lions, tigers and bears (oh my). Some of those might not really have been in the plan.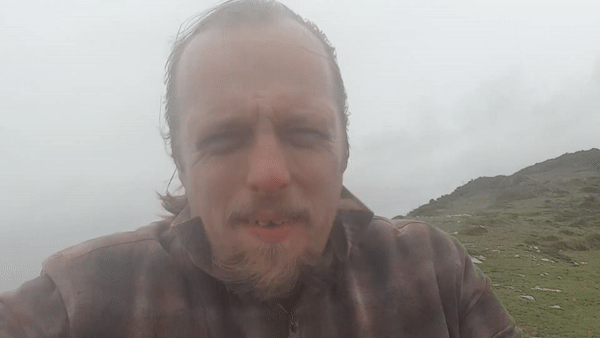 Meanwhile, here's what actually happened:
Storms swept in across Penzance, soaking me, and
Causing the sleeper train to get cancelled.
So now we're working out what to do next. Right now I'm holed-up in an undisclosed location near Penzance (the ultimate target of the challenge) and Robin's all the way over in London. We're working on it, but this hasn't been so successful as we might have liked.
Update – Saturday 10 November 07:58: We've managed to get Robin onto a series of different trains rather than the sleeper, so he'll still get to Penzance… eventually! Meanwhile, I'm adjusting the planned order of stages at this end to ensure that he can still get a decent hike in (weather permitting).
Update – Saturday 10 November 10:45: Originally, when Robin had been expected to arrive in Penzance via a sleeper train about three hours ago, he'd have received his first instruction via The Gadget, which JTA gave him in London:
The Gadget's primary purpose is to send realtime updates on Robin's position so that I can plot it on a map (and report it to you guys!) and to issue him with hints so that he knows where he's headed next, without giving him access to a phone, Internet, navigation, maps, etc. The first instruction would be to head to Sullivan's Diner for breakfast (where I've asked staff to issue him with his first clue): cool eh? But now he's only going to be arriving in the afternoon so I'm going to have to adapt on-the-fly. Luckily I've got a plan.
I'm going to meet Robin off his train and suggest he skips this first leg of the challenge, because the second leg is… sort-of time-critical…
Update – Saturday 10 November 13:29: Robin finally arrives in Penzance on a (further-delayed) train. I've given him a sausage sandwich at Sullivan's Diner (who then gave him the clue above), turned on The Gadget (so I've got live tracking of his location), and given him the next clue (the one he'd have gotten at Roger's Tower) and its accompanying prop.
Armed with the clue, Robin quickly saw the challenge that faced him…
After all of these delays, there's only about an hour and a half until the tide comes in enough to submerge the causeway to St. Michael's Mount: the island he's being sent to. And he's got to get there (about an hour's walk away), across the causeway, find the next clue, and back across the causeway to avoid being stranded. The race is on.
Luckily, he'd been able to open the puzzle box and knows broadly where to look on the island for the next clue. How will he do? We'll have to wait and see…
Update – Saturday 10 November 14:18: Robin made spectacular time sprinting along the coast to Longrock (although his route might have been suboptimal). At 14:18 he began to cross to the island, but with only a little over half an hour until the tide began to cover the causeway, he'd have to hunt quickly for the password he needed.
At 14:22 he retreived the clue and put the password into The Gadget: now he had a new set of instructions – to get to a particular location without being told what it was… only a real-time display of how far away it was. 7.5km and counting…
Update – Saturday 10 November 14:57: Robin's making his way along the coast (at a more-reasonable pace now!). He's sticking to the road rather than the more-attractive coast path, so I've had "Control" give him a nudge via The Gadget to see if he'd prefer to try the more-scenic route: he'll need to, at some point, if he's to find his way to the box I've hidden.
Update – Saturday 10 November 16:50: No idea where Robin is; The Gadget's GPS has gone all screwy.
But it looks like he probably made it to Cudden Point, where the final clue was hidden. And then kept moving, suggesting that he retreived it without plunging over the cliff and into the sea.
In it, he'll have found a clue as to broadly where his bed is tonight, plus a final (very devious) puzzle box with the exact location.
The sun is setting and Robin's into the final stretch. Will he make it?
Update – Saturday 10 November 17:25: He's going to make it! He's actually going to make it! Looks like he's under a mile away and heading in the right direction!
Update – Saturday 10 November 17:55: He made it!
We've both got lots to say, so a full debrief will take place in a separate blog post.