I'm pretty sure that an outside observer, given the advance knowledge of this blog post, could easily tell when I'm in the process of getting over an illness just by the food I eat. I'm pretty sure that I have a particular 'tell' in the foods I look for when I'm on the cusp of recovering from a cold, like now: or, I suppose, on those rare occasions that I'll have drunk enough to be suffering from a hangover.
Take this lunchtime, for example. I've been off work for the last couple of days, laid low by what seems to be the very same cold that I was sure I'd dodged when everybody else got it, last month (I blame Annabel, the contagious little beast, who's particularly keen on shoving her hands into people's mouths). Today I'm back on my feet, but working from home: I skipped breakfast, but by lunchtime I felt able to face some food, and quickly determined what it was that I really wanted: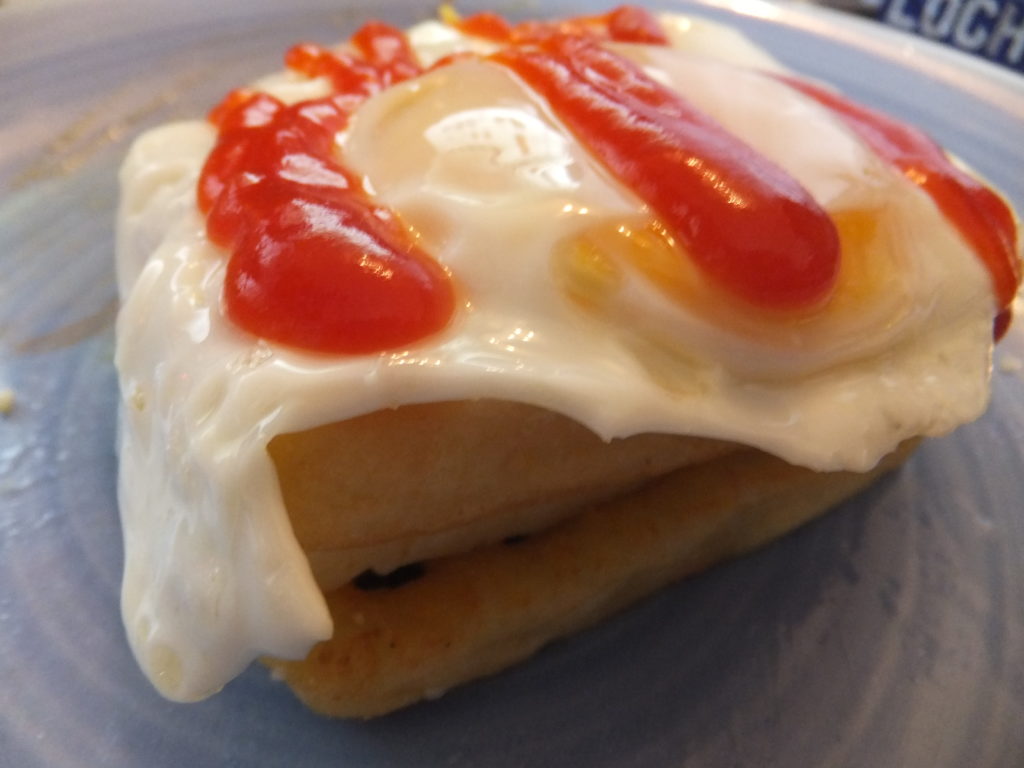 Egg & Cheese Wafflestack
Serves: 1 unwell-but-recovering person
Preparation: 15 minutes
Difficulty: if you can't make this, get the hell out of the kitchen
Ingredients
4 × frozen potato waffles. I'm using Birds Eye ones, but honestly, who can tell the difference?
~ 30g mature cheddar cheese, grated or thinly sliced, brought to room temperature so it melts quickly
2 × eggs
A little vegetable oil
Tomato ketchup (alternatively, brown sauce works well)
Method
Grill the waffles in accordance with the instructions. Meanwhile, fry the two eggs ("sunny side up": keep the yolk fluid). Assemble in stacks, with each stack consisting of cheese sandwiched between two waffles, topped with an egg and the ketchup. Serve immediately. Eat as quickly as you dare.
So now I'm sitting here eating the taste of delicious recovery, generating 4096-bit strong probable prime numbers (like you do), and reading the feedback on a browser plugin I released recently. And every part of that is a huge improvement upon lying ill in bed.