Okay, okay, I get it!
After my blog post a few days ago about the imminent death of the oft-neglected Abnib, I received a surge of complaints by IM, email, and comments. It turns out that a higher-than-expected number of you are actually using the site on a daily basis.
So I've extended its life by a further two years, at least. I've also done some quick hacking to put together a new, more-maintainable framework for it. I give to you all: Abnib 7.0!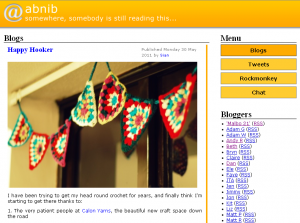 Features not in 6.0 but now present include:
Easier to maintain; so when new blogs appear or old ones disappear, there's a chance that it'll be kept up-to-date.
Really ugly new skin thrown together in a few minutes.
Combined RSS and OPML feeds, to make it easy for you to switch to a better aggregator, as I assumed you all already had.
It's a little faster to update itself and a lot faster to use.
Abnib Tweets, for those of you who are of the twittering persuasion. I'm not, so if there's anybody I've missed you'll have to let me know.
Abnib Rockmonkey – a random daily snippet from the long-dead Rockmonkey wiki.
Abnib Chat, the return of the abandoned chat room. Hey; if people still want Abnib, maybe they still want this, too… but I shan't hold my breath! And no, the old Rockmokney bot, Iggy, isn't there, so there'll be no random cries of "Surfboard!" unless you bring them yourself.
Update: Wow. So far the chat room's seen Matt R, Ruth, Bryn, Claire and me. Just not at the same time. It's just like old times (although Iggy, who I just reinstated, is yet to say "surfboard" even once…)