My boss, Simon, and his family have recently gotten a new puppy, called Ruby.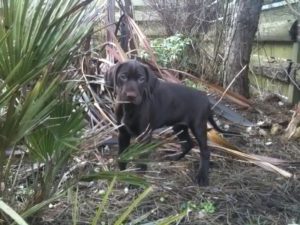 Apparently the little girl's full of energy and bounce and is taking up a lot of time while she gets settled in to her new home. While talking on an instant messenger with my boss earlier this week, he was telling me about how he'd had to get up in the middle of the night and take her for a run around the garden, because the little tyke was still full of beans and not sleepy. And that's why I made one of those fabulous moments in instant messaging: when you type something that can be read multiple ways:
Dan: Puppy eating time?
Obviously, I had meant:
Dan: [Is the] puppy eating [i.e. consuming a lot of your] time? [Poor you, you're not getting much sleep.]
Just three words. So simple. But a split second later the other, inevitable way of reading it became clear:
Dan: [Is it] puppy-eating time? [I want to eat your puppy!]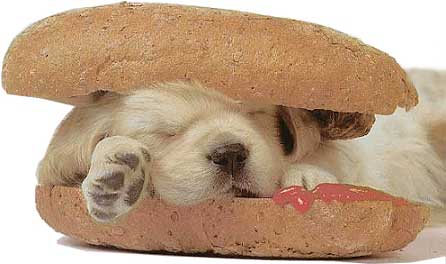 Shit. That's not what I meant! I tried to correct myself:
Dan: I don't want to kill your puppy!
Then I realised: what if my boss didn't read it the wrong way at all? What if he already understood that I was asking about how much time and energy the new family member was taking up… if that's the case, then I'd just made myself look like a psychopath who's contemplating killing his family pets. I backpedalled:
Dan: That came out all wrong. I mean: of course I don't want to kill your puppy - I just didn't want you to think that I did, in case you thought that for some reason.
That didn't help. This was just going from bad to worse. Then, salvation came:
Simon has reconnected.
Simon: Sorry, had to reboot - did you get my message about our new puppy?