There's been quite a lot said recently on abnib about class. JTA opened up the debate; Claire followed up by listing some of her least favourite things about the stereotypes of the middle class, and attracted a lot of debate in her comments; Matt P argued that the class system doesn't exist (or, at least, isn't relevant) in the UK any more anyway; and even Beth weighed in with her opinions on the whole thing, although it did take me prodding her with a virtual stick before she did so.
I thought it was about time that I rode in like a knight in slimy armour (wearing my helm of peripheral vision, of course) and closed the argument once and for all: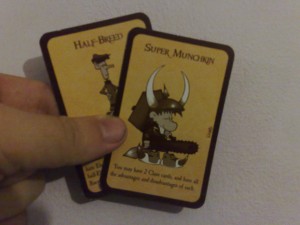 Who says I can't be a half-middle-class, half-lower-class half-Elf, half-Orc?
(with insincere apologies to those who don't play Munchkin)
Incidentally, Geek Night this week will be on Friday at Ele and Penny's house.