Via Jeremy Keith I today discovered Jim Nielsen's suggestion for a website's /.well-known/links to be a place where it can host a JSON-formatted list of all of its outgoing links.
That's a really useful thing to have in this new age of the web, where Refererer: headers are no-longer commonly passed cross-domain and Google Search no longer provides the link: operator. If you want to know if I've ever linked to your site, it's a bit of a drag to find out.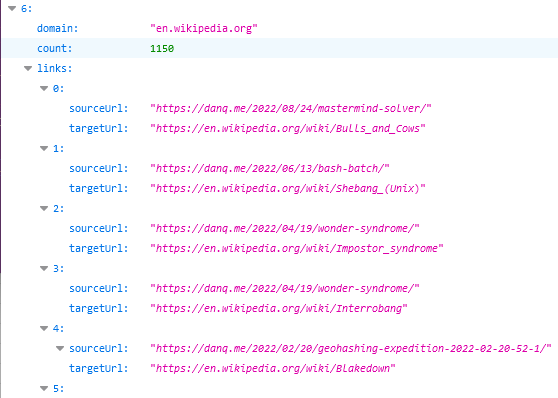 So, obviously, I've written an implementation for WordPress. It's really basic right now, but the source code can be found here if you want it. Install it as a plugin and run wp outbound-links to kick it off. It's fast: it takes 3-5 seconds to parse the entirety of danq.me, and I've got somewhere in the region of 5,000 posts to parse.
You can see the results at https://danq.me/.well-known/links – if you've ever wondered "has Dan ever linked to my site?", now you can find the answer.
If this could be useful to you, let's collaborate on making this into an actually-useful plugin! Otherwise it'll just languish "as-is", which is good enough for my purposes.