This checkin to geohash 2022-02-19 52 -2 reflects a geohashing expedition. See more of Dan's hash logs.
Location
Just off footpath near Kinnersley, Herefordshire.
Participants
Plans
I've a rare opportunity today to expand my Minesweeper grid by reaching a hashpoint in 52 -2. Also, to engage in my established tradition of "getting outside and exploring" on 19 February (in memory of my father, the most "get outside and explore" person I ever knew, who died ten years ago today while, you guessed it, getting outside and exploring).
I've booked some accommodation nearby with a view to seeing some of the Wye valley while I'm here.
Expedition
It's become traditional that I mark the anniversary of my father's death with an outdoors adventure: he was a huge fan of getting outside and exploring the world (and, indeed, died during a training exercise for a planned expedition to the North Pole). Sometimes (e.g. 2014-02-19 51 -0, 2021-02-19 51 -1) this coincides with a geohashing expedition; today was one of those days.
I'd originally hoped to spend a long weekend on this, the tenth anniversary of his death, trying to clear two or three of my three unfinished corners of the minesweeper grid centred on my home graticule. This would have involved a possible quick day trip to this graticule followed by a camping expedition along the South coast to try to pick up the remaining two. However, it was clearly not to be: for a start, all of the weekend's hashpoints on the South coast graticules turned out to be at sea! But even if that weren't the case, I was hardly likely to go camping on the coast during the "red warning" of Storm Eunice! So I revised my plans and changed my expedition to find this hashpoint (still gaining one more part of my grid), then stay over in the graticule before possibly heading East for one or two more over the coming day(s).
I drove up to the village of Kinnersley and parked at (52.253611, -3.0975) in the car park of the Church of St James. From there, I walked up the footpath to the North, through three fields, until I reached the edge of the orchards near which I'd surveyed the hashpoint to be. The fields were incredibly muddy following the recent heavy rain. It soon became apparent that the hashpoint was on the near-side of the hedgerow and thankfully not in the orchard itself, so I walked along the edge of the hedge until I reached it at 15:45:07.
Returning to my car, I drove on to my accommodation, took a walk around the village, then pressed on in the morning to the 2022-02-20 52 -1 hashpoint!
Tracklog
My GPSr kept a tracklog of my entire two-day expedition: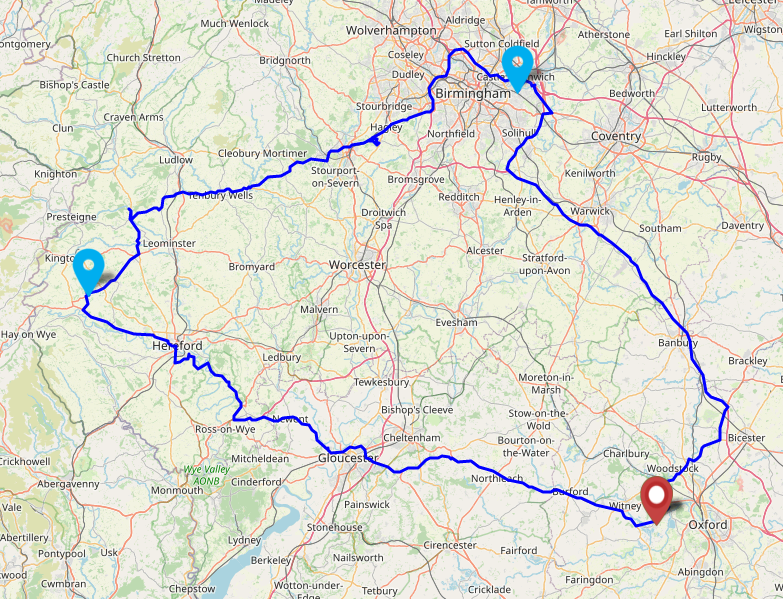 P
hotos
I shot video of most of this expedition but don't have time to edit it, so here are stills from the video instead: