An abundance of leaf mulch made it more–challenging than I'd anticipated both to reach the GZ, on account of slipperiness, and to find the container, on account of camouflage. My geosense took me directly to the right spot but after an initially fruitless search I expanded my radius. Then, still having had no luck, I checked the hint and returned to the site of my initial hunch for a more-thorough search. Soon, the cache was in my hand. SL, TNLN.
Like many previous finders I'm staying in the nearby Alexandra House. My fellow volunteers and I at a nonprofit we run were getting together for our AGM and a Christmas meal (I know it's early in the year for such things, but among our activities was signing Christmas cards to the hundreds of charities we support, and we have to catch the last international posting dates!).
As has become my tradition at our get-togethers, I got up for a quick hike/geocaching expedition before breakfast. I'm glad I did! This under-hunted cache represents much of what's best about the activity: a decent sized container, maintained for many years, in a location that justifies a nice walk. FP awarded.
Side note: there's a bus stop (pictured) at the North end of this footpath. Who's it for??? In the middle of nowhere with a two-hourly bus five days a week, it doesn't seem to be serving anybody! Maybe a geocacher will disembark there, someday.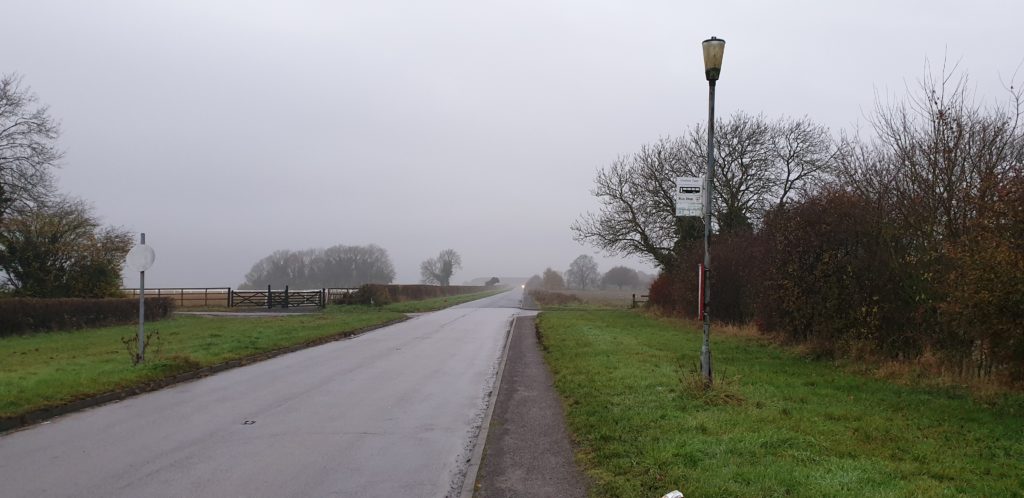 TFTC.