This story actually relates to an event that happened in mid-2010, but I only recently got around to finishing writing about it.
Once upon a time there was a boy named Dan.
Dan lives in a big house with his friends Ruth and JTA.
(their other friend, Paul, lives in the house, too… but he isn't in this story)
One day, Dan and Ruth and JTA went on an adventure. They packed up a picnic with all their favourite foods.
Big soft sandwiches, teeny-tiny sausages, cheese-with-holes-in, and a big box of chocolates. Then they got onto a bus.
Soon, they saw a big, wide river. "Let's get off here," said Ruth. JTA pressed the button to tell the bus driver to stop.
At the river, there was a man with all kinds of boats: boats with pedals, boats with paddles, and boats with poles.
"Can we borrow one of your boats?" Dan asked the man.
"Okay," he said, and gave Dan a long pole.
Ruth and JTA got into the boat and sat down. Dan stood up on the very back of the boat. It was very wobbly!
Dan used the pole to reach all the way down the bottom of the river, and pushed the boat along. It was hard work!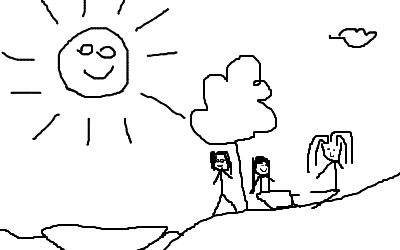 They found a shady tree in a park, stopped the boat, and ate their picnic.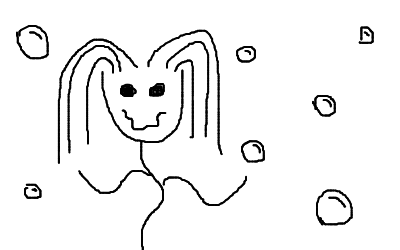 They drank some fizzy wine and felt all bubbly and dizzy. Soon it was time to get back on the boat and go back along the river.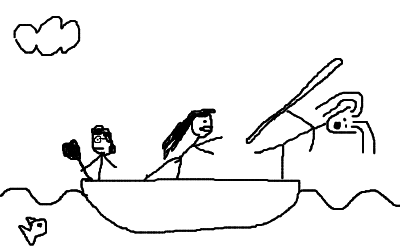 One time, Dan almost fell into the water! But luckily he didn't, and he, Ruth and JTA got back safely.
And they all lived happily ever after.