Went out last night for curry and beer to celebrate Paul's birthday (yes, we're all well aware that Paul's birthday was almost a month ago, but this was the first chance we'd had to really get together and make an ocassion of it). It was great to get together with a handful of folks rarely seen in the same place outside of Troma Night – and in some cases, recently, not even then – and have a good night out.
At the end of the evening I was quite tipsy; a direct result of the fact that or a few hours before the curry I'd been "warming up" with ales in the Ship & Castle with Matt P. And, as you may have noticed by now, there's a strong correlation between me going to bed drunk and me blogging about particularly unusual dreams. I skipped a dream that I couldn't be arsed to blog about, near the end of last month, under similar intoxication. I'd made some notes on it, as I try to with everything I dream about, but never found time to write it up to standards of internet legibility (whatever that can be taken as meaning).
In any case, last night was a classic example of me dreaming within-a-dream, which I gather is something a lot of people haven't experienced (for me, while not commonplace, it's not terribly rare, either, for me to "wake up" within a dream, or to remember previous dreams as dreams within the one I'm currently 'in'). Note the double-indentation to ease understanding of which dream I'm referring to:
I had been hosting a house party of some variety, in a somewhat larger (and significantly tidier) version of The Cottage, and it was beginning to wind up – most of the guests had gone home, except for a few small, scattered groups in different parts of the building (I mentioned that it was bigger than The Cottage usually is, right? – there are times that the word "mansion" could have come to hand). JTA, Claire and Ruth were somewhere upstairs; Bryn was talking to Andrew Rawlins (!) in a kitchen reminiscent of my dad's house; and I was in the living room, talking to Penny.

If I remember rightly we were talking about oral sex technique. So, just a regular conversation for me, you're probably thinking. And that's about the time that we kissed.

We hid that we'd been kissing from Bryn and Andrew as they came through the living room, said goodbye, got their coats and left. And again, when Gareth, Penny's partner, arrived by car to pick her up. And then I went to bed.

And then I woke up. I don't specifically remember waking up, but I remember having a moment of realisation that everything that had just happened was a dream. It was an unusual dream, sure (although not entirely unpleasant: Penny's pretty hot), but just a dream, and so I got on with my day. Leaving Claire in bed, I went to work, and I remember thinking about the fact that I would undoubtedly blog about the dream I'd had, and that I hoped I wouldn't alarm or embarrass Penny by doing so!
And then I woke up. Actually, this time, and there was a moment of confusion as I remembered that it was Ruth I'd spent the night with last night, not Claire at all, and I spent the first few minutes of the morning trying to work out where the dreams began and ended. Perhaps more confusingly, I discovered when I woke up that I'd somehow, in the night, managed to cut my hand and I was bleeding all over the place. I snapped the following photo after I'd cleaned it up a bit.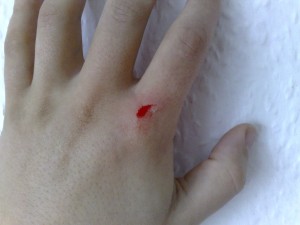 Ruth theorised that she attacked me in my sleep because she was jealous that I was kissing Penny in my dreams, going on to add that she wanted to be dreaming of kissing Penny. But I'm not sure if she'd approve of me blogging that, so you should pretend that I didn't.
Do you or anybody you know routinely dream that you are dreaming? Or wake up from a dream with an unusual injury? Or have dreams that involve your friends cheating on their partners with you?