The first postcard has arrived from Jimmy's world tour (right now he's in Thailand).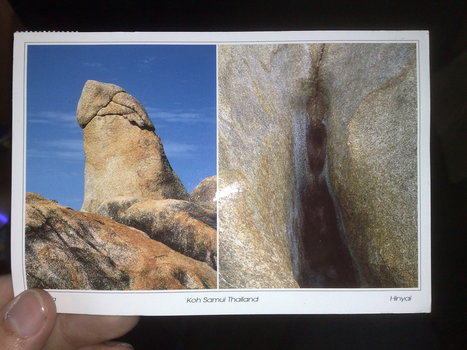 On the front is a picture of some interestingly-shaped rocks which are apparently right outside the front door of the guesthouse where he's staying.
He writes:
Hello everyone in Aber!

Fly to Samai in Thailand. Grab a taxi (boat or car) to Lamai beach. I'll be in the guesthouse next to the rocks like genitalia – you can't miss them. Bring sun cream!

Seriously, this place is amazing. Going to spend a month or so island hopping – might get used to the heat by then.

Hope everyone is well,

Jimmy
If you get internet access and read this, Jimmy: know that your postcard got here okay (and sooner than you estimated!) and that we're all thinking of you. And if you send enough postcards, we'll think about getting some kind of world map and sticking them to it with bits of wool and pins like something out of some crime thriller where the detectives are trying to track the villain's movements around the globe.
Or like that scene in Heroes. That would have been shorter to type, wouldn't it.