It's been a busy weekend. Friday saw me travelling by train to Preston, with Faye, my honorary girlfriend for the weekend (Claire had exams on Friday and Saturday morning and sadly had to leave the position vacant). Then, no sooner had we arrived (owing to a missed connection at Wolverhampton) we had to dash to my dad's house, grab some more train tickets, and get back to the station (collecting my sisters and my mum on the way) and catch another train, this time to Glasgow. But not before playing a neat game at Preston train station we call "get the stranger to identify people she's never met."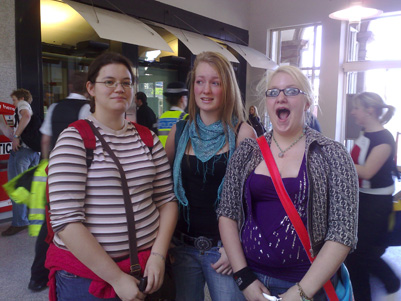 This game came about when we realised that Faye was looking around her to see if our mum had yet arrived at the station, despite having never met her and not knowing what she looked like. We made a game of it, getting a message to my mum to not acknowledge us or make eye contact with us when she arrived, and agreeing to do the same, so that Faye could try to identify her based only on her shared facial features. She'd have succeeded if she'd been bold enough to point out the mysterious woman who crept past us and got onto the train: my sisters and I didn't even notice her sneak past, and we almost missed the train because of it, as we insisted upon continuing to wait for her as we didn't think she'd already passed us.

We finally got to Glasgow, and made our way to the venue where Meat Loaf was to perform (see Ruth's review and Strokey Adam's review from the same tour). We had some difficulty getting our tickets, mostly because we couldn't find the credit card collections point.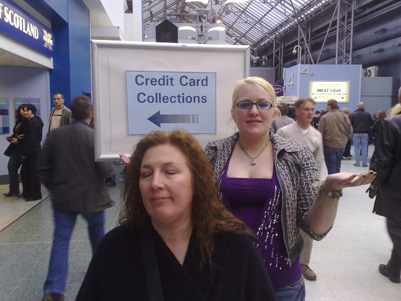 The concert itself was very good. The warm up act, Marion Raven, was well-worth seeing. Meat Loaf himself is visibly less able than he once was, and performed less well than the last time I saw him live, but was nonetheless able to treat us to a spectacular show featuring hits from all three Bat Out Of Hell albums… as well as a less-well received encore of cover songs (why bother, when he has such a great back catalogue of his own material?). Well worth-seeing, even if not as good as I'd remembered him.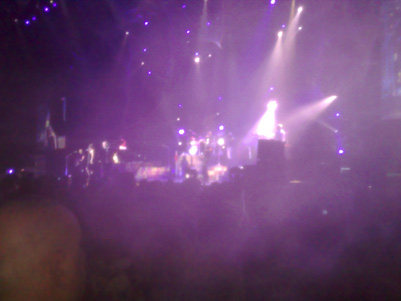 After this, we saw off my family (who were driving back with my dad) and Faye and I checked in to the local Travel Inn, at which I took (and sent to Andy, for whom Faye is a girlfriend on a more permanent contract) the following picture using the until-then untested timer shot feature of my new Nokia N95.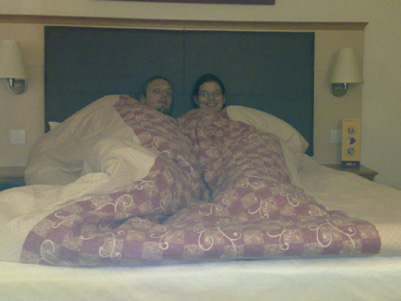 Several text messages from Andy insisting that I "behave myself" later, Faye got into her own bed and we ate pizza from a local takeaway (that was harder to find than it should have been – who'd have thought it'd be so hard to find some greasy takeaway food at midnight in central Glasgow?).
The following morning we returned back to Preston by train. Our train was diverted from the main line owing to maintenance work, adding almost two hours to our journey time (it feels quite frustrating to be sitting on a brand new Pendolino train that's crawling through the Lake District at no more than 30mph, or so the GPS on my new phone [can you tell that I like my new phone a bit] claims). I bought a bottle of Fanta, and, realising that my new contract gives me a near-infinite number of text messages, entered the "text in the code from the label" competition that's currently running. Finally, we reached Preston, and I set Faye on the way back to her family in Chester, ending her contract as my temporary girlfriend, and went to meet up with my family again.
I didn't manage to get Radio 1 Big Weekend tickets, but my sister Sarah did and shared them with her friend, and they spent most of the weekend out of sight or – sometimes – returning home for a change of clothes and a chance to sober up for a few hours between the endless events that the festival provided (or that sprung up around it in Preston's usual nightclub selection). It didn't terribly matter, though, because my dad's back garden gave ample opportunity to listen to the music from the main stage, just a stone's throw away, and it was easy to combine this activity with the endless fun of playing on the new trampoline. Disappointingly, it wasn't possible to jump high enough to actually see the acts. Although I didn't think to try the skylight in the attic, I suspect the church tower might have gotten in the way.
Claire arrived by car – having finished her final exam – and, accompanied by my dad and my sister Becky, we began to discuss and visit some of the places we'd discussed as potential venues for the upcoming QParty. We finally found one. This isn't it: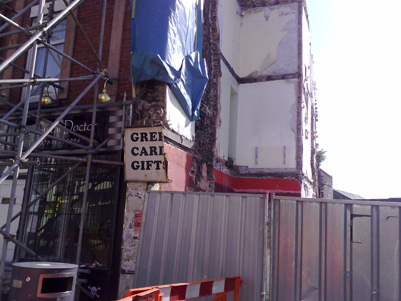 However, it is just across the road from it, and it was interesting enough to warrant a photo. It appears that the entire building (and half of the one next to it – they even chainsawed their way through the sign) has been simply removed from the street.
Eventually we settled on a venue: Roper Hall on Friargate, Preston. Originally a Roman Catholic all-boys school, this building went through several renovations before eventually becoming a bar and nightclub. At one point it was owned by the Students Union of the University of Central Lancashire, although I'm not sure that's still the case. We managed to confirm a booking for our proposed party date, Saturday 8th September, and we'll be sending out invitations, we hope, within a week or two.
Sunday became our day of rest. I was aching quite a lot after a 2+ hour session on the trampoline the night before, and we were all pretty exhausted.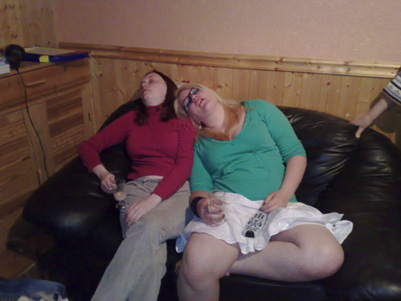 Still, we managed to pull ourselves together to have a barbecue in the evening with the whole family, plus my mum's boyfriend Andy, while we chatted about further ideas for QParty events. If you're an invitee, you'll find out about some of them… eventually.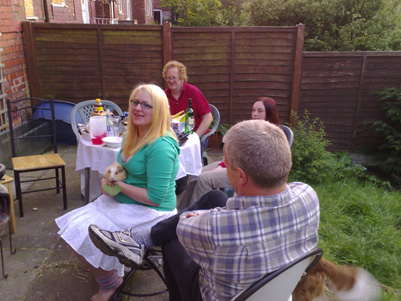 I got the opportunity to take a copy of the PhotoCDs my dad had made from many of his old slides, including a huge collection of me and my sisters very young. You'll see some of them on my Facebook account (and have the opportunity to mock me about them) soon enough, I'm sure. Before we left Preston on Monday, Claire and I decided to meet up with my sisters and my mum for a pub lunch together.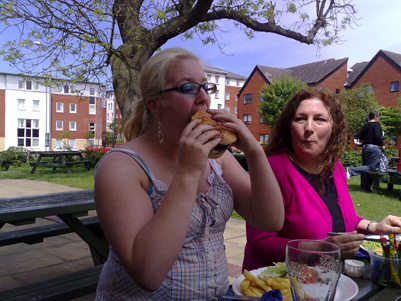 On the way to the pub, I received a phone call from a man who identified himself as "a representative of Fanta, Sprite, and Dr. Pepper. I was busy navigating for Claire though Preston's infernal one-way system at the time, so I asked him to call back in a quarter of an hour. He called back while I was at the pub…
…it turns out I won the competition I'd entered on the train. Having never entered a text-in competition before (my sister Becky, who'd entered this particular competition several times and was living on a diet of Fanta by this point), I got lucky and won the grand prize on my first attempt. Apparently, later this week, I'll receive a new Nintendo Wii, a 26" Samsung HD-capable LCD TV (that'll be nice for Troma Night), and a fridge filled with three crates of Fanta. Go me.
Comments to the effect of "you lucky git" are fully anticipated. Comments to the effect of "can I have the Wii" are too late, as I'm already giving it to my mum for her birthday. Comments to the effect of "can I have a bottle of Fanta, then" will probably be answered in the affirmative, if you come to Troma Night, and – if they're promotional bottles – will be accompanied by my statistical tips to maximise you chances of winning (take it from an expert).
Right; that's all from me – it's been a long day.