Warning: this blog post contains spoilers about the Murder Mystery Way Out West by Freeform Games. If you're ever likely to participate in this commercially-available murder mystery, you might like to skip over this blog post.
A few weekends ago, as planned, we hosted Murder… Way Out West, the Earthlings' most-recent murder mystery night. My new job, among other things, has been keeping me busy at the moment, so I've not had the chance until now to really write it up: apologies to everybody who's patiently waited to see the photos!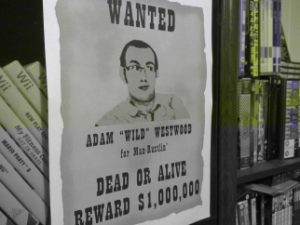 We'd originally planned to host Murder at the Glam Rock Concert, which I've recently been writing, but an increase in my workload towards the end of my job at SmartData had simply made it impossible for me to finish authoring it in time. Instead, we purchased a prefabricated "print and play" murder mystery kit from online retailer Freeform Games.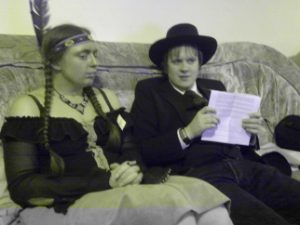 Compared to the unscripted "freestyle" murder mystery games I've written, there were a few differences in Way out West that made me slightly apprehensive:
Firstly: the majority of the characters start the game with all of the information that will be given to them. This differs from my unscripted mysteries, which have always introduced additional information at the start of a second act, at least. For example: in the successful Murder at the Magic College, Old Betty (Siân)'s second act envelope revealed that she had, between the acts, visited her greenhouse, which provided her with valuable information.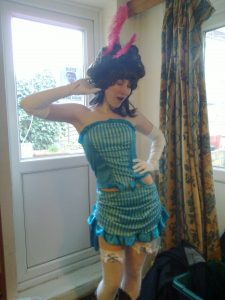 On one hand, I've always felt that drip-feeding information to characters in this way is somehow lying: in some of the less well-written "scripted" kits we've played over the years, the information that is introduced is pretty contrived – almost predictable, with some authors – and it doesn't always flow nicely. However, it's been my experience that it's easier for players to get into character, faster, if they're given basic information to start with and then a fuller explanation of their investigation once they've gotten underway (and have a couple of drinks down their necks!).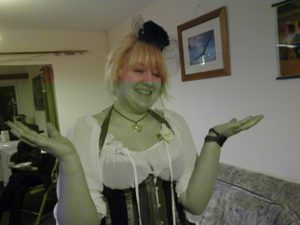 The other question that comes out of this discussion is should the murderer know that they're the murderer right from the start? Freeform Games and I disagree on this one: they feel that the murderer should know. It's my feeling, though, that this – counter-intuitively – makes it too hard for the murderer (who has to lie, more convincingly, for longer, unless he or she is given a sufficiently bulletproof alibi to work with), and it makes it particularly challenging to get into character (which many players already find hard).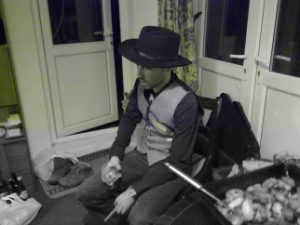 Of course, there was one particular thing about this murder mystery that made this question somewhat redundant (and here's where you really need the spoiler warning)… in this particular murder mystery… there is no murderer!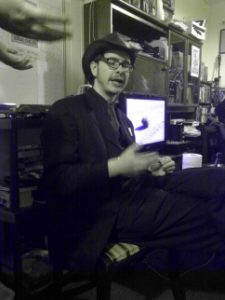 Wait a minute… what? Yes, it turns out that the "murder" victim actually died of a heart attack. Admittedly, he was probably under a great deal of stress after being beaten quite severely by Slick O'Hare (Kit), on the orders of Clem Parham (Matt R). And this may have contributed to his death; but let's be clear here – the charges should be assault and manslaughter. And this isn't a "Manslaughter Mystery", it's a "Murder Mystery", damnit!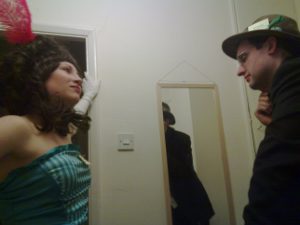 The author had obviously intended that Slick and Clem would want to try to cover their tracks (or else, failing that, to turn on one another in an attempt to save themselves). After all, the Old West probably isn't that forgiving of the difference between murder and manslaughter! But by a combination of the broken concept and some slightly-sloppy writing, this wasn't particularly clear. Despite having been with him when he died, I heard the culprits talking to one another early on, saying "Are we… the murderers?" You'd think that they'd know!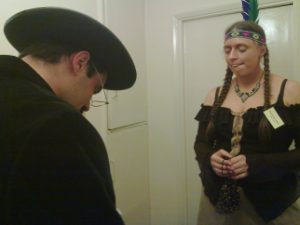 The others were confused and perhaps felt slightly cheated by this quirk, too. I'd once considered writing a "murderless" mystery once, myself, in which the victim's death was unrelated to any of the characters (suicide, perhaps) but where they all had motive to kill them, but I eventually ruled it out based on the fact that it wouldn't be very fun and that everybody would feel like they'd been robbed of the experience of deducing the murderer. It looks like I'd have been right.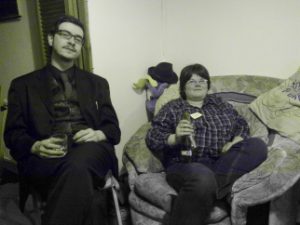 Another thing that was unusual and different about Way out West, compared to our usual homegrown mysteries, was the emphasis that was put onto special abilities, item effects, and combat. In our previous events each character has had only two or three "special" things that they can do, whereas in this Freeform Games event each character had a great number of abilities, and most had a weapon and/or a special item (not directly related to the main plot, but possibly related to a subplot), too. I get the impression that these were initially a little overwhelming, but by the end people were using their abilities reasonably effectively (including a whole string of people pickpocketing one another!).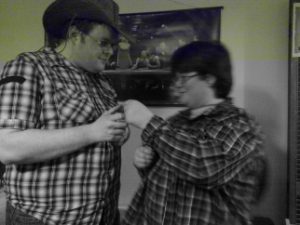 The combat aspect of the game was another unusual one. Aside from the actual murder (or not, in this case) and the tension-building, late-game "The Murderer Strikes Again…" cards in Magic College (carefully balanced with a number of characters who can and items that can be used to communicate with the dead), we've not seen much death during a murder mystery game before. Even sanitised as it was (most characters, most of the time, will recover from their injuries without assistance, eventually), I was worried that it might lead to griefing, but in actual fact it was used sparingly and people seemed to "get into it" pretty well (even going so far as to collapse with a scream, and those who discovered the body would express shock and concern).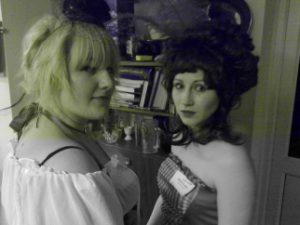 Unlike most of our homegrown mystery nights, little guidance was given to players about the relative worths of their goals, but this seemed to work out reasonably well as players were encouraged to do "what felt right" to them: Deputy Dan Fairweather (JTA), for example, having won the heart of Lucy (Fiona), decided that the most important thing to him was to ensure that the Judge (Rory) wasn't allowed to be compromised, even if that meant relieving him of his post (by force, if necessary). This wasn't directly alluded to in his "things to do" goal list – just like Lucy's plan for the possible division of her father's land between Mel's (Paul's) railroad company and her friend Blaise (Liz) as part of a deeper and more complex scheme by which she got hold of a map to a silver mine… couldn't have been scripted, but fell together (with a lot of last-minute improvisation) without a hitch.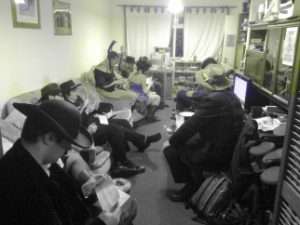 As usual, Ruth did a fantastic job of laying out a feast of thematically-valid food: drawing from a variety of American cuisine and sprinkled with a lot of love and imagination (and all alongside playing a complex character with a complicated costume: fake tan and all).
I was immensely impressed, yet again, as the players outdid themselves (yet again, again, for many of them) in terms of the dedication they threw at their characterisation, costumes, and performances. Clem was sickeningly evil and looked down on the other characters from the side of the room, flipping his (genuine) silver dollar from the actual year in which the event was set. Slick spent far too long (and too much pain) getting his scar "just right". Dan Fairweather's gun was only a little bit of drilling away from being a legitimate firearm, and had a weight to it that made you feel that he could actually club somebody to death with it. Blaise showed a lot of flesh, but also showed a lot of character with a faux Southern drawl and grainy photographs of the girls she had for hire. The characters expressed love and concern for (and hatred and disgust with) one another and all because the players worked so hard to bring them to life. It was beautiful to watch.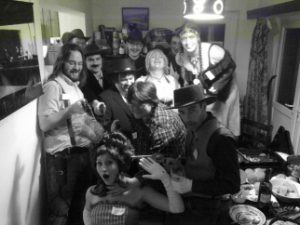 In the end – despite the fact that most folks were correctly pointing the finger at one or both of the culprits (not that there was a murder, but you see my point) – the deputy sheriff's final decision was that "it would be too obvious" if the two most nasty characters turned out the be the murderer. Obviously he'd not picked up yet on quite how transparent and single-dimensional some of the writing was: thankfully we have such outrageously imaginative friends that they managed to pull the night off anyway! In any case, he decided to hang Blaise Sadler, so we all get to see a photo of Liz looking… what I think she wanted to come across as "shocked", but which could equally be termed "blowjob-lips".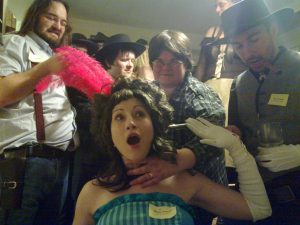 Despite all odds and some mediocre source material, a great night was had by all. You can find a download link to get all of the photos in the sidebar of the official website.
Murder at the Glam Rock Concert will still happen, someday, so get those dancing boots and that glittery make-up ready (yes, guys too!) for the next Murder Mystery Night. Hope to see you there!