Not to be beaten to press by Grow Some Balls And Quit, Gareth and Jon push forward the publication date of their own non-fiction volume: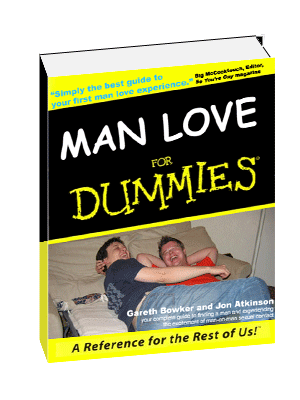 Man Love For Dummies
A Real Eye-Opener by C. Waltham
I've always been curious about my sexuality. Am I gay? Am I straight? I just don't know. This book has helped me a lot: seeing how an "out" couple like Gareth and Jon express themselves to one another through the physical act of lovemaking has helped me to realise my potential as a mincing shirt-lifter, and the illustrative pictures on the full-colour foldouts in the middle of the book are breathtaking. If, like me, you've ever wondered about man-on-man sex, this is the book for you.
Good, but not great by bookworm331
I've been in a sexual relationship with a man for several years now, and to be honest, I didn't think this book would do anything for us, but boy was I wrong. The authors' – who are a genuine gay couple – frank advice revamped our sex life: more sex, better sex, and we've even discovered a new-found love for "toys" (thanks Chapter 6)
The down-to-earth tips in this book may seem crude to some, but if you're new to the Man Love Scene (MLS) or if you're just looking for a way to spice up your Man Love life, this is an invaluable guide.
My only criticism is that the middle section, which is filled with photographs of the authors themselves engaging in various sex acts, is uninspiring: if I really wanted to see two men lie head-to-tail and slap each other in the face with their penises, I'd go down the pub. This book delivers lots of useful knowledge, but, just like Jon in Chapter 7, it doesn't go the extra mile.
i dont get it by whiner
how can people even pick up this discusting book of sin! homosexuality is an ABOMINATION AGAINST GOD and they are going to bURN IN HELL for what they have done. If only these FAGS would pick up a real good book (hint: it's the Bible!!!) for once in a while they wouldnt feel the need to force their vile urges upon schoolboys. I have not bought this book and neither should you.