Hot on the heels of the news that the café below us is for sale, a new café has opened just across the road, where Serendipity (a restaurant I never got the chance to go to) used to be.
Fresh Ground Café can now be found at number 14 Cambrian Place. Claire thinks it's name is clever because they're on new and on the ground floor, but that seems a little contrived to me: rather, I think that they're trying to play upon the fact that they feel they're bringing some "fresh ideas" to the Aberystwyth coffee shop 'scene'.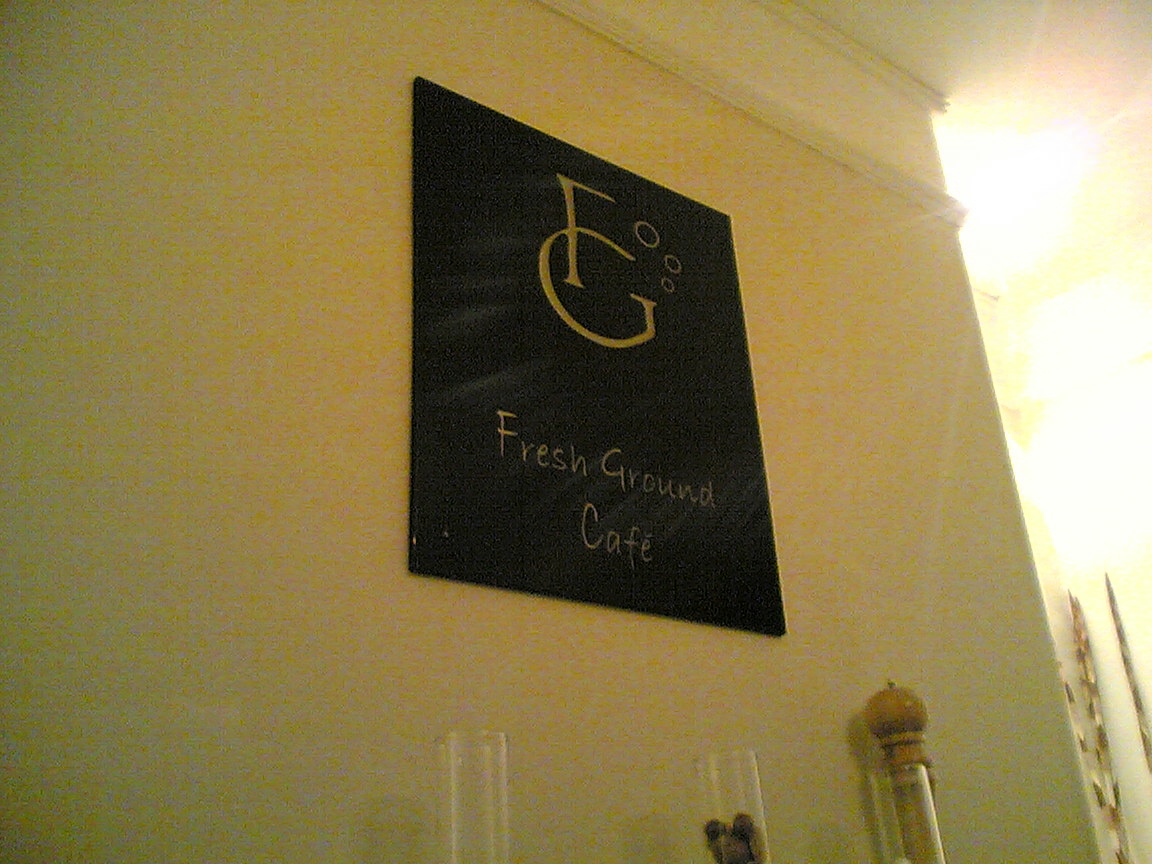 And they're certainly giving "fresh ideas" a go, at least as far as Aber's concerned. They open from 10am 'til 11pm, so you can have a late-night coffee and cake before getting back to a long night's code-hack/NaNoWriMo-writing/Civ IV game. They're getting wireless internet access, so you'll be able to surf the web while you much your croissant. They do hot and cold food (both light meals and snacks) throughout the day. They have board games to play. They have huge leather couches. And most of the produce seems to be organic and/or fair trade.
Bryn, Paul and I each ordered the soup of the day – tomato soup – which turned out to be a deliciously thick and delicately spiced soup that was more filling than we'd expected. Claire ordered a cream cheese bagel. Bryn and Claire tried out the coffees, Paul had a warm-milk-with-syrup drink, and I sampled the hot chocolate, which sent me giddy for most of the evening.
Later, we examined their selection of board games: just the typical "family games pack" affair: a chess set with plastic pieces, a copy of "snakes and ladders", Chinese checkers, backgammon etc. I taught Bryn to play Arimaa while Claire and Paul played checkers. Not much to excite board game geeks like ourselves, but the large tables and availability of freshly ground coffee might make the cafe a suitable venue for games of Chez Geek, Chrononauts, Fluxx, and other (friendly, civilised – Munchkin is out!) games.
It looks like this new café is trying to tap into a so-far-undiscovered market in Aber: for an evening venue without alcohol or smoking in which one can enjoy a civilised drink with friends. The prices are a little more than we're used to – we paid just under £20 for 2 coffees, 2 teas, a hot milk drink, 2 hot chocolates, a ribena, three bowls of soup, and a bagel – from the likes of MGs or The Mecca, but are still quite reasonable. The venue itself is pleasant, although it may be a little "out of the way" for some patrons and will certainly have to compete with MGs for some of the business lunchtime traffic (I note that the Fresh Ground Café has already launched a reward card scheme very similar to that of MGs).
Worth a look.
Words written: 1000 / target: 50000