Many of you will remember that we went to Go Ape as part of Ruth & JTA's stag/hen night, last year… and that we dressed as superheroes.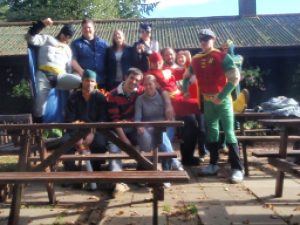 Well: it looks like we made a big difference to one little girl. Do you remember the kid who was scared to go on the big "tarzan swing" until she was cheered on my a group of us, hanging from the next platform along? Well, it turns out that we were mentioned in that girl's family's review of the day.

That's kind-of sweet.
In other news, we'll be doing another Go Ape trip on 27th March, to celebrate Paul's birthday. More of you ex-Aberites read my blog than has, so – if you're coming – Paul's asked me to remind you to fill in the form on his blog post about the event (we need to do this so we can pre-book for the appropriate number of people), and we'll see you there! (superhero costumes are not mandatory, but you know I'll be wearing mine…)