Archived
This cache was removed and archived after it became apparent that flooding would be a huge issue for it.
The Cache
You're looking for a grey plastic "ammo can" hidden near the banks of the River Windrush, close to a pillbox that has toppled into the water. Unless conditions have been very dry, wading in ankle-deep water might be necessary to retreive the cache: it can get knee-deep during flood periods.
The Journey
You'll probably start your expedition from New Bridge, whose name belies the truth that at almost 800 this listed building is probably the oldest surviving bridge over the Thames.* The bridge is flanked by two pubs – the Maybush Inn and the Rose Revived – both of which provide free parking to customers: if you're driving to the trailhead, this might be a good option.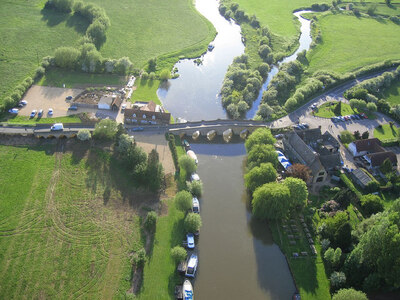 Head West along the footpath opposite the Rose Revived about a quarter of a kilometre. There you'll find a type 22 pillbox (DoB:S0006818). Constructed as part of the Upper Thames stretch of the GCQ Stop Line, this pillbox was built to help hold back armoured assault by Nazi Germany; something it never had to do.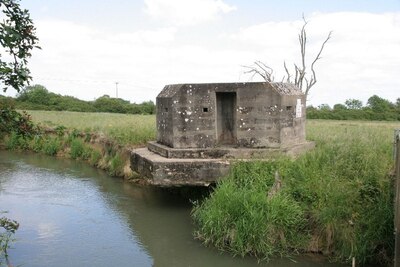 Its foundation had already been washed-away over the decades but it was probably the record rainfall of Spring 2012 that finally undermined the structure and sent it to its current location: slowly sinking into the River Windrush.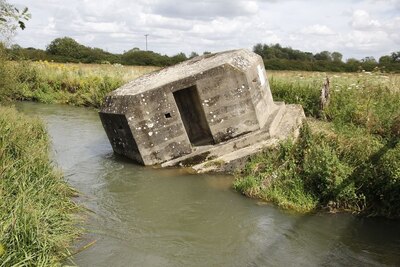 The cache is not in the pillbox. If you've got good footwear and the water level is not too high, you might like to take a look inside the pillbox, but if you choose to do so then please take care.
You're looking for a large "ammo box" style container. Please ensure it's closed properly and well-hidden back in its spot before you leave. The container is normally very accessible but during flood conditions wading might be required.
---
Photo credits: Photos of the pillbox An old friend and Pillbox in the water by Bill Nicholls (who took many other great photos of this part of the stop line); aerial photo of Newbridge by my former colleague Dave Price. All photos used under a Creative Commons Attribution-Sharealike license.
Footnotes:
* The only Thames bridge with a strong claim to be older – Radcot Bridge – has been demolished and reconstructed twice over the coure of its life. In any case, Radcot Bridge ceased to span the entire Thames following course adjustments in the 18th century made to improve the navigability of this stretch of the Thames upsteam to the then-new Thames to Severn Canal.
Logging this cache
You can log this geocache at any or all of the following:
This page, by leaving a comment, trackback, or pingback to this web address