Two years after our last murder mystery party, almost three years since the one before, and much, much longer since our last in-person one, we finally managed to have another get-the-guests-in-one-place murder mystery party, just like old times. And it was great!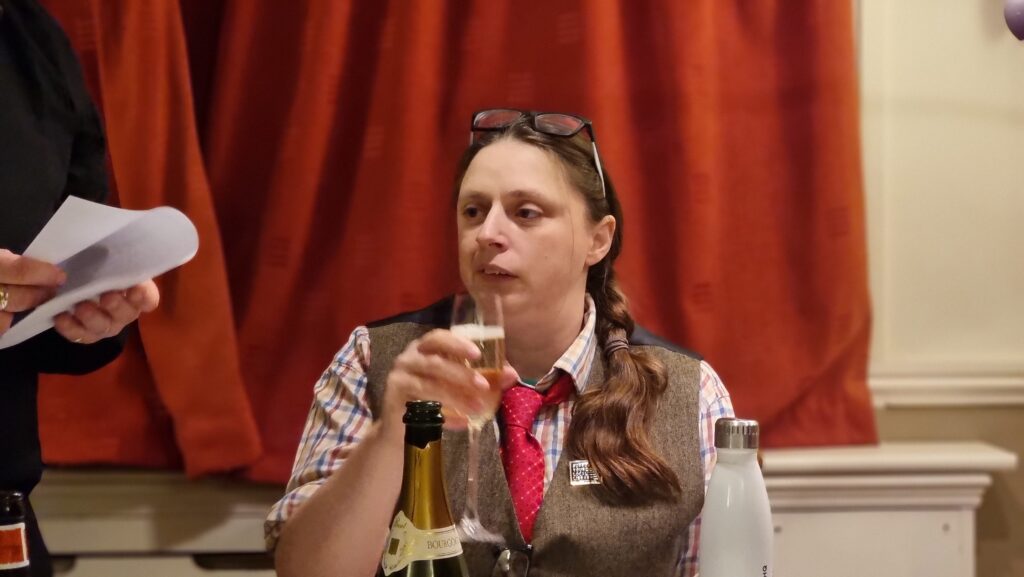 It's still been been over a decade since we played a mystery that I wrote (though I'm hoping to rectify that within the year): this time we played D'Avekki Studios' Murder in the Library.
D'Avekki's murder mystery sets use an unusual mechanic that I've discussed before online with other murder mystery party authorship enthusiasts1 but never tried in practice: a way of determining at random who the murderer is when play begins. This approach has a huge benefit in that it means that you can assign characters to players using a subset of those available (rather than the usual challenges that often come up when, for example, somebody need to play somebody of a different gender than their own) and, more-importantly, it protects you from the eventuality that a player drops-out at short notice. This latter feature proved incredibly useful as we had a total of three of our guests pull out unexpectedly!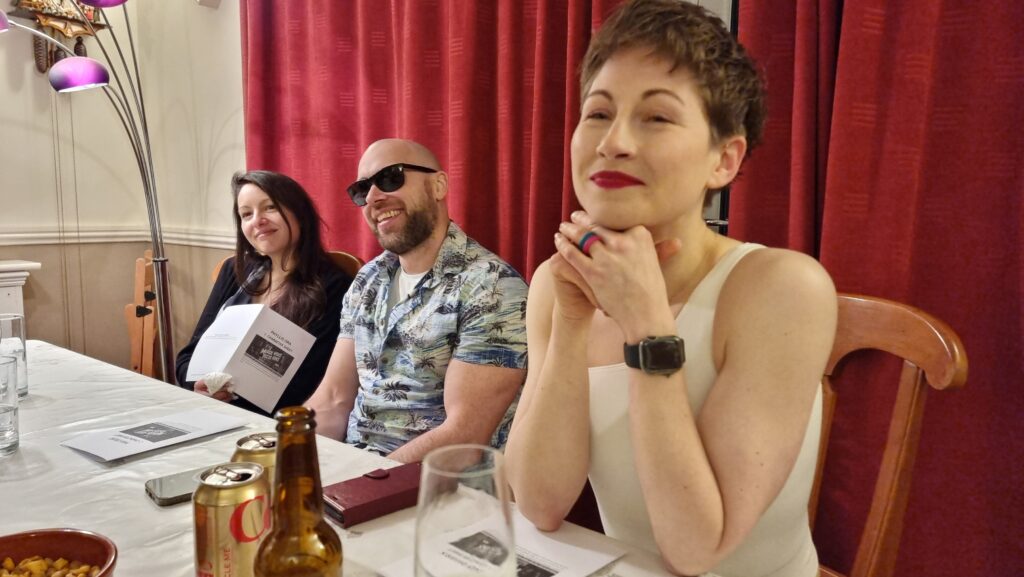 The challenge of writing a murder mystery with such a mechanic is to ensure that the script and evidence adapt to the various possible murderers. When I first examined the set that was delivered to us, I was highly skeptical: the approach is broadly as follows2:
At the start of the party, the players secretly draw lots to determine who is the murderer: the player who receives the slip marked with an X is the murderer.
Each character "script" consists of (a) an initial introduction, (b) for each of three acts, a futher introduction which sets up two follow-up questions, (c) the answers to those two follow-up questions, (d) a final statement of innocence, and (e) a final statement of guilt, for use by the murderer.
In addition, each script has a handful of

underlined

sections, which are to be used only if you are the murderer. This means that the only perceivable difference between one person and another being the murderer is that the only who is the murderer will present a small amount of additional information. The writing is designed such that this additional piece of evidence will be enough to make the case against them be compelling (e.g. because their story becomes internally-inconsistent).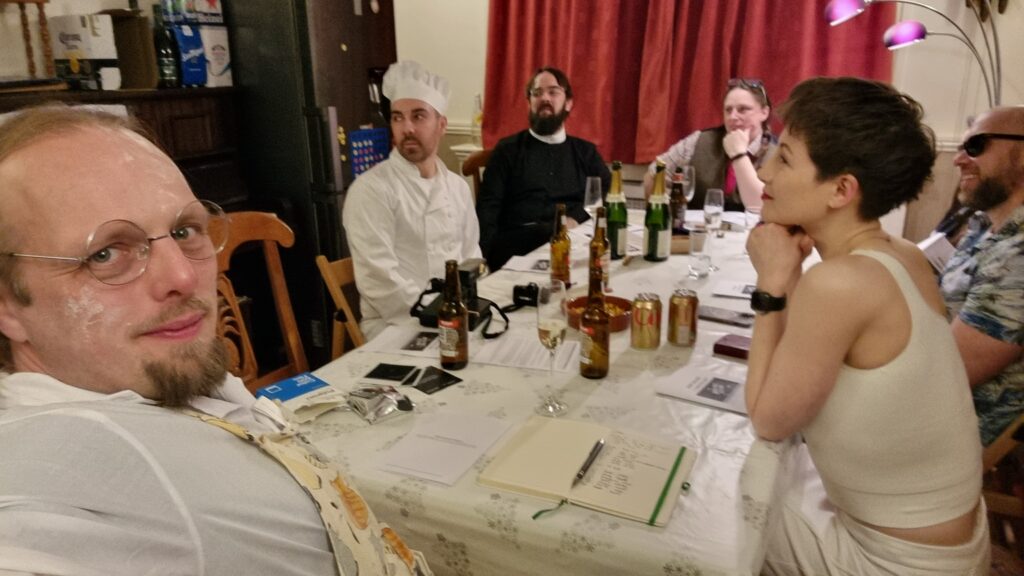 The writing was good overall: I especially appreciated the use of a true crime podcast as a framing device (expertly delivered thanks to Rory's radio voice). It was also pleasing to see, in hindsight, how the story had been assembled such that any character could be the murderer, but only one would give away a crucial clue. The downside of the format is pretty obvious, though: knowing what the mechanic is, a detective only needs to look at each piece of evidence that appears and look for a connection with each statement given by every other player, ruling out any "red herring" pairings that connect to every other player (as is common with just about the entire genre, all of the suspects had viable motives: only means and opportunity may vary).
It worked very well, but I wonder if – now the formula's understood by us – a second set in a similar style wouldn't be as successful.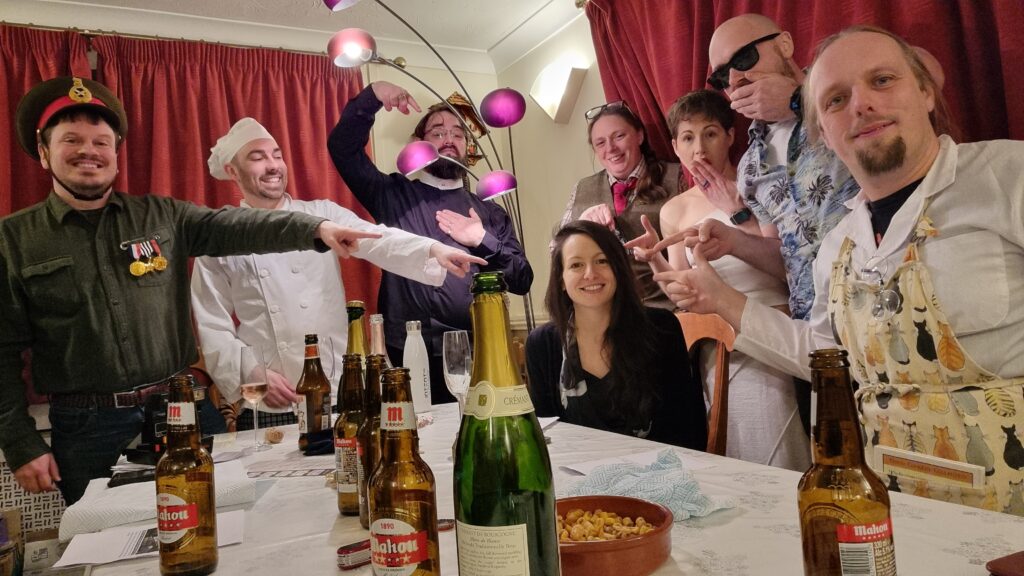 That said, nobody correctly fingered the murderer this time around. Maybe we're out of practice? Or maybe the quality of the hints in such a wide-open and dynamic murderer-selection mechanic is less-solid than we're used to? It's hard to say: I'd certainly give another D'Avekki a go to find out.